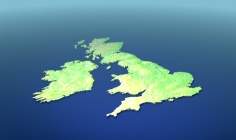 Swiss Re's annual snapshot of the UK protection market has reported that in 2014 1.67m new term assurance, whole life, critical illness and income protection policies were sold, a year-on-year (YoY) increase of 4.1%.
Swiss Re's Term & Health Watch 2015 report noted that new Income protection policy sales experienced the largest increase of the categories measured, with 96,889 new policies sold in 2014 compared to 90,794 in 2013, a YoY rise of 6.7%.
The number of new term life cover and new guaranteed acceptance whole life policies increased by 5% and 1.2% YoY respectively.
Meanwhile, the report said the number of new critical illness policies, stand-alone and acceleration of life cover combined, increased by 4.4% (YoY).
In many ways, Swiss Re said the 2014 results come "as a pleasant surprise".
It explained that against a background of some firms withdrawing from providing advice and with consumer confidence remaining quite fragile, it would have been no surprise to be reporting a further decline, continuing the trend seen in the 2013 data.
In addition, a number of specific circumstances, such as the move to gender-neutral pricing in late 2012 and the tax changes affecting life policies from January 2013, exaggerated the decline in the sale of new policies between 2012 and 2013.
The report also uses the views of 47 leading industry figures, questioned in March and April 2015.
Online focus
And it highlighted that customer behaviour continues to show a preference for engaging and researching for protection products online as has been seen in other sectors.
"Although direct to consumer sales remain low when we consider the size of the market overall andremain predominantly guaranteed acceptance plans, we may now be moving to the point where we are able to begin unlocking the potential which undoubtedly exists," said the report.
It added: "Many respondents see the need for better collaboration to create a bigger market inwhich we can all compete; there was a strong view that we need to begin to move away from adding ever more complexity to our propositions.
"For consumers new to our market, speed of execution may be more important than the fine nuances of the cover they are considering."
Swiss Re stressed that clarity of the proposition must extend to labelling where clear messages have bene ignored by customers.
The report concluded by saying: "Relating to consumers better and creating consumer confidence in what we offer will be key to our future success."