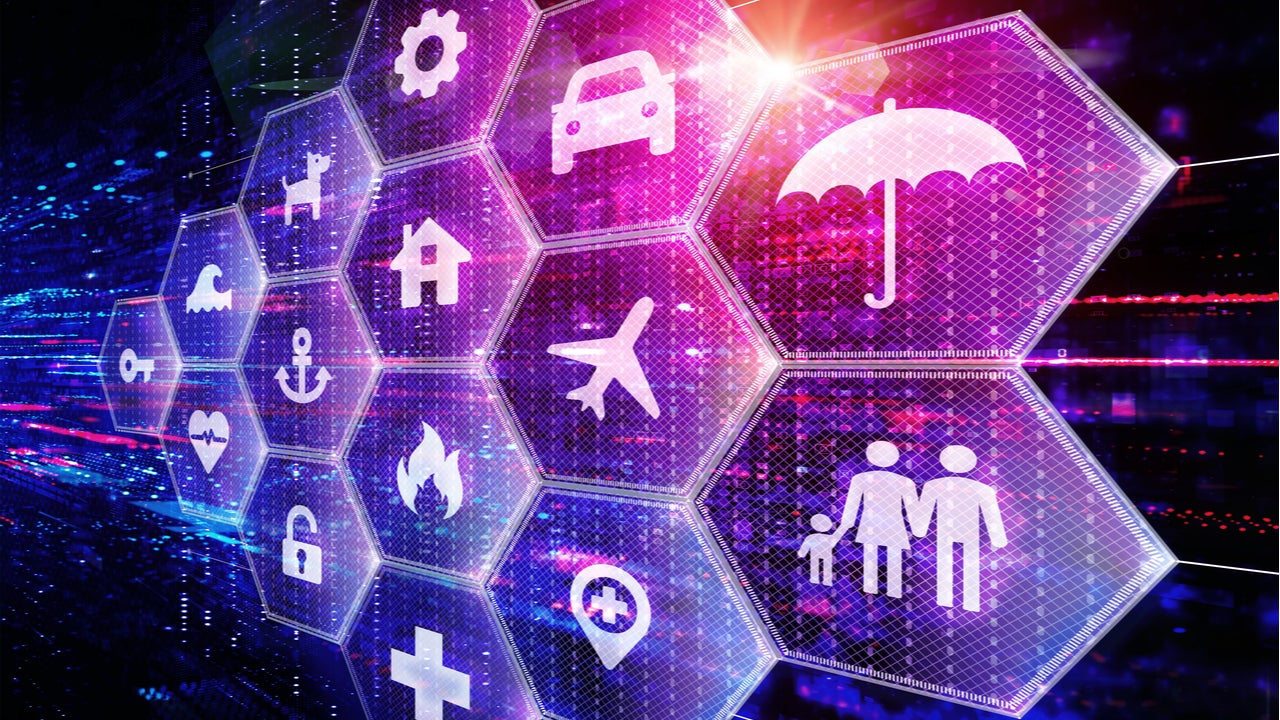 Life Insurance International lists the top five terms tweeted on insurtech in Q1 2022, based on data from GlobalData's Insurance Influencer Platform.
The top trends are the most mentioned terms or concepts among Twitter discussions of more than 150 insurtech experts tracked by GlobalData's Insurance platform in Q1 2022.
1. Artificial Intelligence (AI) – 1,474 mentions
The advantages of predictive analytics that employs machine learning (ML) in insurance, AI's role in detecting insurance frauds, and the evolution of AI systems in the insurance sector, were some of the popular discussions in Q1.
Florian Graillot, a VC investor, tweeted on the different ways in which predictive analytics can benefit the insurance sector. The article detailed how predictive analytics employs data mining, statistical models, and ML techniques to improve the efficiency of various insurance related tasks, such as risk assessment, thereby making it possible to better allocate resources. Predictive analytics also allows customers to get better rates, while allowing governments the flexibility to create targeted insurance policies for individuals, as well as businesses. Furthermore, predictive analytics helps in identifying insurance frauds by checking the details of a customer.
AI also trended in an article shared by Spiros Margaris, a venture capitalist and founder of Margaris Ventures, a venture capital and private equity firm, on how AI and data analytics can help recognise insurance frauds. The Covid-19 pandemic accelerated the pace of insurance frauds due to the rise in personal and commercial claims and difficulties in predicting and segregating the claims, the article highlighted. AI and analytics can help insurance companies to prevent frauds by providing insights on consumer behaviour and patterns of purchase and interest that were difficult to identify earlier. The right AI can also help insurers create customer profiles and give investigators a chance to detect frauds more quickly, while recognising authentic insurance claims, thereby providing a seamless experiences to customers.
In another tweet, Andreas Staub, head of corporate development and digital transformation at Switzerland-based banking group Raiffeisen Gruppe, discussed the future of AI in insurance. The article detailed how present AI use cases in the insurance sector include the automation and modernisation of various claims-related tasks. Furthermore, data science is expected to accelerate digitisation, thereby improving the collection and maintenance of data. AI will evolve to digitise the insurance sector through the continuous monitoring of models to eliminate data bias and identifying the level of specificity of domain problems. AI will also evolve to help in the integration and analysis of unstructured data and improving feedback loops through robust ML systems, the article noted.
2. Innovation – 1,169 mentions
Insurtechs shifting from enablers to disruptors in the next wave of innovation, and AI-based parametric solutions launched in the Takaful insurance industry, were some of the popular discussions in the first quarter of the year.
Mike de Waal, the CEO of Global Iqx, an AI-driven group insurance software development platform, shared an article on insurtechs moving from being enablers to disruptors in the next wave of innovation. The article detailed that insurtech entrepreneurs started out by enabling insurers, but soon realised that it was easier to start an insurance firm than to convince insurers to improve their business. Investors also realised this prospect and invested massively in insurtech in 2020.
Reinsurers are also supporting insurtechs in two major ways through investments and by offering underwriting capabilities and capacities. The arrival of managing general agents (MGAs) or specialised insurance agents, for example, coupled with the growth of full stack insurtechs such as Oscar Health, Devoted Health, Alan, Wefox, and Lemonade compared to traditional carriers, is the most significant trend in the insurance industry. Full stack insurtechs are expected to change the competitive landscape of the insurance industry and are growing faster than traditional insurance providers.
In another tweet, Dr Robin Kiera, CEO of the consulting and marketing agency Digitalscouting, discussed the launch of the second cohort of Regulatory Sandbox by the Securities and Exchange Commission of Pakistan (SECP). The Regulatory Sandbox provides a framework for the implementation of innovations in a regulated and supervised environment. Pakistan-based insurtech Salaam Takaful introduced AI-based parametric solutions under the cohort to encourage innovations in the Takaful insurance industry, a co-operative insurance system.
The AI-based parametric solutions are expected to drastically change the way businesses, financial institutions, and takaful/insurance operators tackle various challenges. The solution employs satellite visuals and geospatial data to evaluate the damage and prioritise claims. It also allows the insurance operators to leverage the support extended by the government to fintech firms, thereby opening new prospects for the industry.
3. Internet of things (IoT) – 694 mentions
The usefulness of IoT and behavioural data in the insurance sector, and the opportunities and challenges of IoT in insurance, were some of the popular discussions in Q1 2022.
Florian Graillot tweeted on the opportunities and benefits of connected insurance. He shared an article on how IoT and behavioural data can benefit insurance underwriting, while also providing insights on usage-based insurance (UBI). The article details on the possibility of users being interested in the issuance of rewards programmes based on information collected from internet-connected devices. Reports suggest that networked devices will exceed 50 billion by 2025, compared to 12.5 billion in 2010. Connected devices are enabling real-time connectivity between the businesses and people being insured and their insurers, which in turn is facilitating risk profiling of customers in underwriting.
Another opportunity for connected insurance is UBI that has evolved to hyper-personalised insurance, which is enabled by telematics. UBI was initially proposed to offer auto insurance discounts based on driving behaviour and patterns. The proliferation of more powerful smartphones in reporting critical driving metrics, however, led to the development of UBI-based programmes to serve as active enablers of accurate risk profiling and quantification.
In another tweet, Matteo Carbone, founder and director of the IoT Insurance Observatory, a global insurance think tank, discussed IoT opportunities for insurers. The article highlighted how the saturated insurance sector can leverage real-time data and analysis from connected devices that are growing in number each day. The data collected from connected devices can be used to offer more personalised products, improve customer experience, enhance risk prediction and prevention, and improve cost efficiency.
Some of the challenges and concerns of insurers in deploying IoT solutions include data security, data management, and resistance to change. Devising an enterprise data management strategy and conducting awareness programmes are critical in bringing the shift from traditional business models and in enhancing insurance experiences for customers, the article highlighted.
4. Life insurance – 98 mentions
Amplify raising funds in a Series A funding round, ZA Bank introducing gamification to life insurance, and the Xempus software as a service (SaaS)-platform allowing insurers to generate new revenues in pension and life insurance, were some of the popular discussions in Q1.
Nigel Walsh, managing director of insurance at technology company Google, shared an article on the digital life insurance platform Amplify Life Insurance raising $12m in Series A funding round co-led by venture capital firms Greycroft and Crosslink Capital. Amplify is the first platform to offer investment in public equities or other investments using customers' life insurance premiums, enabling them to gain access to tax-free returns for a lifetime.
Amplify's customers can personalise their plan based on their risk tolerance and financial goals, the article highlighted. The customers can also customise the premiums to be invested in high-growth investments and for their life insurance coverage. The firm is looking to launch a mobile application platform for customers this year, which will enable customers to manage their coverage details and investment portfolio independently, the article detailed.
The term also trended in an article shared by Robert Collins, CEO of Crossbordr, an insurance broker and consulting firm, on the virtual bank ZA Bank using mobile games to attract and retain customers. Collins tweeted that this could be an opportunity for ZA Bank to bring gamification to insurance in Hong Kong, similar to how tech-driven insurance company YuLife gamified its wellness business model. The ZA Bank was one of the eight virtual banks to be launched in 2020, with support from China's online-only insurance company ZhongAn Insurance, the article highlighted. The bank's app provides a variety of rewards, including virtual pursuits that guide users across banking products, services, and features, the article detailed. The PowerDraw game, for example, allows users to win up to 200% cashback for all offline purchases made through a credit card.
In another tweet, Roger Peverelli, co-founder of the digital insurance agenda (DIA), a global insurtech conference, shared a video how European pension and life insurance distribution platform Xempus is allowing insurance companies to generate new revenues. Xempus has developed a three-sided SaaS-enabled marketplace, which connects about 60,000 small and medium-sized enterprises (SME) corporates, who need to provide pension and life insurance products to their employees, to about 17,000 insurance agents. The agents offer advice on insurance policies provided by all the major life insurance carriers in Germany. The platform thereby enables customers get the right protection and savings policies when needed, the video illustrated.
5. Metaverse – 79 mentions
Insurtech insights for 2022, and the rise in home contents claims involving virtual reality (VR) headsets in 2021, were some of the popular discussions in the first quarter of 2022.
Sabine VanderLinden, CEO of the Alchemy Crew, a venture commercialisation lab for the insurance sector and financial services institutions, shared an article on insurtech insights for 2022. She highlighted that the metaverse will house communities, brands, and players that will shape spaces where experiences will be prioritised over selling and buying products.
VanderLinden believes that healthcare, education, and employee engagement will be the most disrupted markets for the metaverse, and that insurers will have to work harder and faster to scale the opportunities from the emerging technology trends. New entrants and players are also expected to enter the world of insurance, as industries leverage advanced digital technologies to yield further growth, the article detailed.
The term also trended in an article shared by Evan Kirtsel, a B2B influencer, on insurer Aviva claiming that metaverse gamers who are crashing into furniture, while wearing VR headsets, as the reason behind the increase in home contents claims in 2021. Insurers are witnessing a rise in the use of consoles with handsets, fitness games and even rogue fidget spinners being involved in the claims made by customers, the article highlighted. Aviva stated that the average VR-related claim for an accidental damage was about $803.41 in 2021, often from broken TVs damaged by obsessive gamers. Aviva expects more claims to be made in 2022, owing to the rise in VR headsets use in the UK.