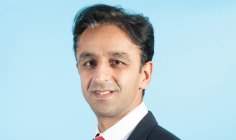 VitalityLife, the business formerly known as PruProtect, has made two senior promotions as the business announced record results for Q4 2014.
Deepak Jobanputra, formerly product and actuarial director is now deputy CEO, while Justin Taurog, previously distribution and marketing director, is now managing director for sales and distribution.
The appointments come after VitalityLife experienced its best ever three month period in Q4 2014, reporting £15m of new business, which surpasses the previous high in Q4 2012 immediately prior to the introduction of the gender neutral legislation.
VitalityLife said this success was supported in part by the launch of new products such as LifestyleCare Cover, alongside 44% of VitalityLife's new business now being written with the Vitality Optimiser product.
This encourages and rewards VitalityLife clients for being healthy, with for example, lower protection premiums and cinema tickets. Justin Taurog, managing director sales and distribution at VitalityLife, said the provider has focused on solutions that meet customers' needs and can grow the protection market. "The Vitality chassis is unique in helping people improve their day to day wellness and get something tangible back without having to claim," said Taurog.
He added: "VitalityLife has built up a sales team of over 200 people supporting IFAs in the UK grow their business and protect their client's futures. This has resulted in us growing to be the third largest insurer in the UK IFA market and our best ever quarter with over £15m new business for the three months to December 2014."
Commenting on the appointments of Jobanputra and Taurog, Herschel Mayers, CEO of VitalityLife, said: "The scale of our ambition in the UK protection market is clear, and our recent results show that we are on the path to growth in 2015 and beyond. "To achieve the level of success we want, we need to have the right team on board. Deepak and Justin have been instrumental in our story to date and their promotions are recognition of the important roles they still have to play in the future of our business."