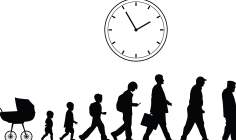 Group income protection insurance premiums in the UK could rise by as much as 50% as the average age of employees continues to rise, according to research from Towers Watson.
The company also found a similar link between workforce age and insurance cost for group life assurance cover and private medical insurance.
Towers Watson suggests that a change in the average employee age from 35 to 40 could result in a 40% increase in premium costs for group life assurance, with the cost continuing to increase as the organisation's average age rises.
Philip Percival, head of Towers Watson's FiT Age programme, said: "It's no secret that employees are starting to work later into their 60s and 70s and this is having an impact on the average workforce age in many companies. The additional liabilities and costs associated with this shift can take organisations by surprise if they are not prepared."
According to further research by Towers Watson, nearly a quarter (23%) of UK employees currently expect to work until the age of 70 or beyond.