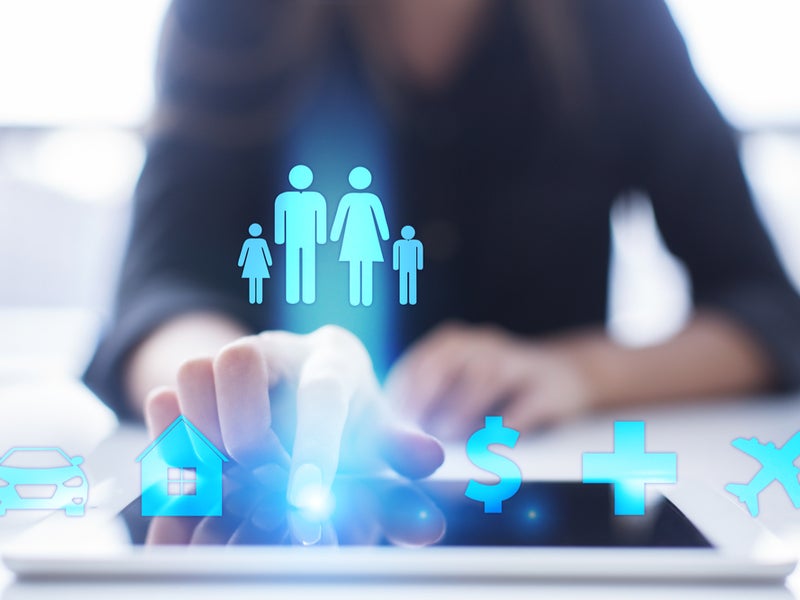 Life Insurance International lists the top five terms tweeted on insurtech in Q1 2020, based on data from GlobalData's Influencer Platform. The top tweeted terms are the trending industry discussions happening on Twitter by key individuals (influencers) as tracked by the platform.
1. Fintech – 5,479 mentions
Key focus areas for Fintech, key insights, the increasing use of robo advisors, apps and fintech solutions disrupting traditional banking and finserv industries, and technology enabling non banks and banks reach new audiences, were some of the popular topics discussed in Q1 2020. According to Mike Quindazzi, a digital alliance sales leader, fintech was entering some key focus areas, with AI, machine learning, and cognitive computing contributing the most to the industry.
Florian Graillot, a venture capitalist investor, further discusses how non bank such as Amazon have entered the lending business, offering small business loans to customers in the US. Meanwhile, Goldman Sachs is expanding its reach to small and medium-sized businesses over Amazon's lending platform.
In other news, Spiros Margaris, a venture capitalist futurist, tweeted on some fintech insights for 2019. The influencer shared data that highlighted that the fintech financing volume last year was the second highest total ever. Additionally, over half of the fintech financing activity occurred outside of the North America.
11 #FinTech focus areas entering 2020 >>> #PwC via @MikeQuindazzi >>> #AI #mpgvip #IoT #Cybersecurity #DataAnalytics #RegTech #InsurTech #FutureofWork >>> https://t.co/RkL8RocBiI pic.twitter.com/j5TxuYkHbe

— Mike Quindazzi ✨ (@MikeQuindazzi) March 5, 2020
2. Artificial intelligence – 2,638 mentions
How emerging technologies such as artificial intelligence, IoT, blockchain, and AR/VR are impacting industries including finance and insurance, and from AI models influencing every major insurance decision, were popularly discussed in this quarter. For example, Kirk Borne, a principal data scientist and astrophysicist, discusses how AI based tools such as chatbots are recreating the experience of messaging.
In other news, Antonio Grasso, a digital transformation advisor, shared an article on how from fraud detection to enhancing customer experience, artificial intelligence could be behind every major insurance decision.
The article further noted that insurers are focusing on the use of AI in key areas such as process optimisation, personalisation, and product innovation.
How #EmergingTechnologies Are Impacting Industries: https://t.co/x5PPtRdkYc
———————#BigData #DataScience #AI #MachineLearning #IoT #IIoT #IoTPL #Blockchain #DigitalTransformation #fintech #insurtech #HealthTech #Retail #EdTech #Industry40 #4IR #AR #VR pic.twitter.com/xOMiwWw8yg

— Kirk Borne at #HPEDiscover (@KirkDBorne) February 26, 2020
3. Startups – 1,734 mentions
Increased funding of insurtech startups, top insurtech start-ups, and reinsurance companies have working with start-ups and innovation, were popularly discussed in Q1 2020. For example, Damien de France, a fintech and insurtech expert, shared an article on London-based Instanda landing $19.5 million in a Series A funding round. The fund is expected to support the company's expansion effort in the US, Europe, Asia, and Latin America.
Forlian Graillot, a venture capitalist investor, further discussed the top insurtech start-ups. Growing investments in technologies is leading to greater investments in insurance tech startups. Some of the top names included Lazarus, Relay, Halos, Spot, and Sorcero.
In other news, Florian Semle, a digital transformation leader, shared an article on reinsurers investing in innovation and working closely with startups. They have created hubs of innovation across the globe, such as Mapfre, has funded Insur_space as a hub for open in order to promote collaboration between startups, innovation institutions and MAPFRE.
London-based insurtech startup INSTANDA raises $19.5 million https://t.co/uUnOlJWBZ2https://t.co/zdYVKYTP1Y#insurtech #fintech #insurance @FGraillot @jblefevre60 @labordeolivier @sebbourguignon @kalydeoo @Nicochan33 @Stevewal63 @maxjcm @Balaji_SanDiego @Fabriziobustama pic.twitter.com/DltigYe0rX

— Damien de France 🌍 🕊️ (@Damien_CABADI) March 10, 2020
4. Innovation – 1,611 mentions
Tech innovations disrupting the insurance sector, automotives launching their own driver insurance, and how new risks, growing data and customer expectations are driving innovation in insurance, were widely discussed topics during the quarter. According to Antonio Grasso, a digital transformation advisor, rising competition is pressuring incumbent institutions to offer new services and transform entire business models. About 86% of insurers believed that innovation must happen to gain competitive edge, the article noted.
In the automotive sector, Dr Robin Kiera, an insurtech expert, shared an article on Tesla to launch a ride-sharing app with its own driver insurance. The car manufacturer has touted a ride-hailing app to be powered by its self-driving system since years now.
In other news, Florian Graillot, a venture capitalist investor, tweeted on how new risks, growing data, and changing demands of customers are driving innovation in the insurance industry. Insurers are thereby focusing on more sustainable business models, lower prices, better products, and more profitability. Insurtech startups like Flock and Wrisk in the UK and Oscar and Hippo in the US are assuredly disrupting the insurance landscape.
Insurers are facing disruption from technology innovation. Incumbents must transform the entire business model. Link > https://t.co/lYvoSxgg55 @raconteur via @antgrasso #FinServ #Insurtech #Fintech #DigitalStrategy pic.twitter.com/K42ktSsmxd

— Antonio Grasso (@antgrasso) February 2, 2020
5. Big data – 1,041 mentions
What is big data, false notions about big data and AI, are citizens ready for the data implications of smart cities, and the combination of big data, were popularly discussed in the first quarter of the year. For example, Spiros Margaris, a VC futurist, tweeted that believing in big data is like believing in the stars. In another tweet, the influencer explains that some false notions have emerged about how big data and AI work together, leading to confusions.
Andreas Staub, a business development and digital transformation leader, discussed if citizens are prepared for the data implications of smart cities. As real-time data helps understand the demand patterns, responding with quicker and lower cost solutions becomes easier. However, in a post-GDPR world, where vast amounts of data are being collected, the need to establish an understanding between people and smart initiatives is important.
In other news, Tarak H Rindani, a reader and philosophical power lifter, re-tweeted on what happens when AI meets big data. The article shared by the influencer noted that by opening up access to data and applying artificial intelligence, the task could become exponentially easier and less time consuming. As a result, companies are rapidly deploying AI technologies.
Believing in #BigData

is equivalent to believing in the #starshttps://t.co/hzqtRYwhFK #fintech #insurtech #finserv #AI #DataScientist #ArtificialIntelligence #MachineLearning @simonings @spectator @leimer @KMcDSAP @pierrepinna @cgledhill @ipfconline1 @YuHelenYu @DimDrandakis pic.twitter.com/aSE38yTYVv

— Spiros Margaris (@SpirosMargaris) January 16, 2020