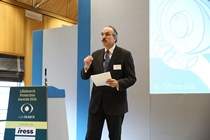 The achievements of protection insurance providers have been marked at the 13th annual LifeSearch awards, which were held at Haberdashers Hall in London on 2 March 2016.
LifeSearch is a UK protection insurance intermediary, and the awards were voted for by LifeSearch advisers.
LifeSearch Protection Awards 2016 – awards winners
Best Service for New Customers
Winner: LV=
Best Provider for Existing Customers
Winner: Legal & General
Best Critical Illness Provider
Winner: Friends Life
Best Income Protection Provider
Winner: LV=
Most Improved Provider
Winner: Royal London
Best E-Commerce
Winner: AIG
Best New Initiative
Winner: AIG
Best Sales Material
Winner: LV=
Best Underwriting Team
Winner: Royal London
Best Individual Impact (joint winners)
Winner: Jonathan Watts (Aviva/Friends Life)
Nick Crossman Award for Best PR & Marketing:
Winner: VitalityLife
Best Protection Leader
Winner: Debbie Kennedy, Royal London
Best Overall Provider
Winner: AIG
Commenting on the awards, Emma Thomson, life office relationship director at LifeSearch said: "The LifeSearch awards are a meaningful reflection of standards in the protection industry. The awards are voted for by the people at LifeSearch, based on their day-to-day experiences of working with these companies, so the winners can feel extremely proud. We congratulate them all."
LifeSearch also announced its financial results for the year ending August 2015, and reported an 8% increase in pre-tax profit to £1.1m.
Tom Baigrie, founder and chief executive of LifeSearch, said: "While we strive to do all we can to grow the market, in reality, our efforts cannot yet be of a scale able to buck the flat trend, so we today challenge insurers to put at the heart of every strategic discussion they have with us from now on, just what they are doing to grow the protection market. Collectively, we must work out how protection becomes genuinely relevant to the man in the street once more."