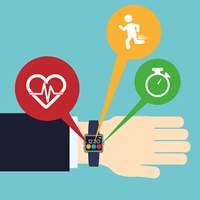 Vitality has partnered with technology giant Apple and online grocer Ocado in deals that enable Vitality members to be rewarded for buying healthy food and staying active.
This "latest evolution of Vitality Active Rewards" enable Vitality members to get an Apple Watch Series 2 from £69 and then fund the remaining balance by getting active.
Vitality Active Rewards with Apple Watch Series 2 will be available for members from October 2016.
Apple Watch Series 2 and Apple Watch Nike+ start at £369. Vitality members will pay an initial upfront payment starting from £69, depending on the model they choose, and then take out a credit agreement for £300 at 0% APR.
They will then make 24 monthly payments of between £0 and £12.50 depending on how many activity points they earn:
| | | | | | | | |
| --- | --- | --- | --- | --- | --- | --- | --- |
| ACTIVITY POINTS EARNED IN A MONTH | | | 0-39 | 40-79 | 80-119 | 120-159 | 160+ |
| MONTHLY DIRECT DEBIT PAYMENT | | | £12.50 | £10 | £7.50 | £5 | £0 |
To fully fund the balance of the cost of their Apple Watch Series 2 or Apple Watch Nike+, members need to earn 160 activity points every month and stay with Vitality for the entire purchase period.
Vitality said its active rewards programme is designed to work seamlessly with Apple Watch Series 2.
'Points make prizes'
Members can track their activity via Apple Watch Series 2 to earn Vitality points. They can also receive notifications to their Apple Watch Series 2 when they unlock Vitality Active Rewards, which include weekly Starbucks drinks and cinema tickets.
Vitality said it has already seen success with similar integration in the US and South Africa where, compared to members using other devices under the Active Rewards structure, Apple Watch users were found to be considerably more active, with 3.5 active days per week compared to 2.9 for members using other devices.
The programme represents the next development of Vitality's 'Shared Value Insurance' model, which incentivises members to make healthy lifestyle choices for the benefit of both their own long-term health, and society as a whole.
Neville Koopowitz, CEO of Vitality, said: "Encouraging our members to be active is integral to the Vitality programme – being active has a profound positive effect on a person's health and productivity, and also leads people to improve other lifestyle behaviours, such as nutrition. Through our Active Rewards benefit, where we link immediate incentives to the achievement of short-term physical activity goals, we have seen significant increases in the amount of activity our members are doing, and importantly, many previously sedentary members have now become active."
Ocado online grocer partnership
In the case of Ocado, Vitality members can be rewarded for buying healthy food through the online grocer.
When they unlock the Vitality Active Rewards benefit and reach monthly activity points targets, they will be eligible for up to 25% off as much as £100 of healthy food per month.
There will also be no delivery charge if over 30% of the total shop is deemed healthy.
A similar campaign brought success for Vitality's parent company in South Africa, Discovery, as research showed customers spent 6% and 9.3% more on healthy foods when offered discounts of 10% and 25% respectively.
Vitality CEO, Neville Koopowitz, said: "Maintaining appropriate activity levels is only one factor in ensuring a healthy lifestyle. Good nutrition is also incredibly important and it is crucial that people fully understand the importance and benefits of choosing healthier foods."