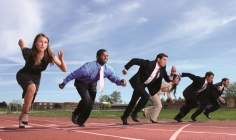 Health and life insurer Vitality generated a 16% rise in profit to £42.8m across its two brands, VitalityHealth and VitalityLife, in the first year of operations since its rebrand in November 2014.
Vitality was rebranded from PruHealth and PruProtect after South-African headquartered Discovery, which is Vitality's parent company, announced in November 2014 it had acquired the remaining 25% stake in the holding company that owned PruHealth and PruProtect.
In November 2014, LII reported that the 25% stake acquisition by Discovery was done for £155 million with immediate effect.
Other key financial metrics from the combined businesses include:
The combined UK business now covers 867,000 customers – an increase of 15%
Overall premiums/revenue have risen by 11% to £533m
Combined new business sales are down 2% to £105m
According to Vitality, the success of the two businesses is due to a number of factors, both at a product and brand level.
From June to September 2015 for example, it said 55% of new business included Vitality Optimiser. Vitality Optimiser integrates life insurance and Vitality benefits.
Vitality said it has experienced strong member engagement with its existing product range and the new active rewards benefit which launched at the start of 2015.
Member engagement results include 1.2m Virgin Active gym visits over January to June 2015, 500,000 films viewed at Cineworld and Vue and 95,000 Vitality Age completions over January to June 2015.
Vitality has undertaken an extensive national awareness campaign since its rebrand across TV, press and digital.
The brand now has a significant sports sponsorship portfolio established across rugby, football, cricket, netball, cycling and most recently, naming rights to Bournemouth AFC's stadium.