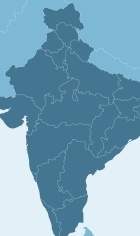 Swiss Re has received a branch licence to operate in India and offer both non-life and life and health reinsurance directly to clients and brokers in the country.
The reinsurer gained the approval from the Insurance Regulatory and Development Authority of India (IRDAI) to open a branch in Mumbai.
Swiss Re is among the first five foreign reinsurance companies to obtain a licence to sell reinsurance in India.
Swiss Re's newly licensed entity, Swiss Reinsurance Company India Branch, will begin its operation effective from 1 February 2017.
Indian market growth
Establishing a branch in India is timely for Swiss Re it has said the Indian insurance sector is poised for strong growth with an average annual growth rate of 8% from 2017 to 2025.
Swiss Re CEO Reinsurance Asia, Jayne Plunkett, described the development as a "significant milestone for us".
Plunkett said: "Our new India branch, together with Swiss Re Global Business Solutions centered in Bangalore, represent our commitment and investment in India's long term future, and our ambition to be part of this dynamic high growth market."
Kalpana Sampat, currently managing director of Swiss Re Services India Private, will head the Swiss Re India branch as its CEO.
She will be responsible for developing the reinsurance business and operations of the branch.
Sampat brings with her 30 years of life insurance industry expertise with experience in insurance, audit and law.
Key facts on Indian life insurance market
In March 2015, the limit on foreign direct investment (FDI) in the Indian insurance industry was increased from 26% to 49%
The Indian life insurance segment accounted for 79.2% of the industry's gross written premium in 2015
During 2011–2015, the segment grew at a compound annual growth rate (CAGR) of 6.4%
Rises in life expectancy and the working population, growth in GDP, the introduction of flexible life insurance plans and rising consumer awareness supported the segment's growth
Indian life insurance penetration decreased from 3.29% in 2011 to 2.70% in 2015; however, this was the highest penetration in the industry in 2015.
Life insurance penetration in India is lower than in Taiwan (15.7%), Hong Kong (13.3%), South Korea (7.3%), Japan (8.3%) and Thailand (3.7%), which provides opportunities for insurers.
The deregulation of the Indian insurance industry in 2000 and the authorization of foreign participation resulted in an increase in the number of life insurers, going from five in 2000 to 24 in 2015
Source: Life Insurance in India, Key Trends and Opportunities to 2020, which is published by Timetric's Insurance Intelligence Center http://www.insurance-ic.com/