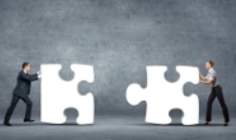 UK-based Standard Life is reportedly keen to increase the stake in its Indian life insurance joint venture HDFC Life to 35% from the existing 26%.
HDFC Life was founded in 2000. HDFC holds 70.64% and Standard Life (Mauritius Holding) Ltd. holds 26% of equity in the joint venture, while the rest is held by others.
HDFC chairman Deepak Parekh was quoted by the Press Trust of India as saying that Standard Life has expressed interest to increase its shareholding in life insurance arm following the new insurance law that raised the foreign holding cap to 49%.
Parekh added: "We have still not finalised with Standard Life. But they have indicated that they would like to take up to 35 per cent.There, we will have some possibility of an IPO because we will then have a gap of 14 per cent."
HDFC vice-chairman Keki Mistry said that HDFC will formally announce the stake hike by Standard Life only once the decision is final, which will take up to four more weeks.
HDFC Life has 414 branches and had 14,348 employees, as of March 2015. The company currently has 26 retail and seven group products in its portfolio, along with nine optional rider benefits catering to the savings, investment, protection and retirement needs of customers.