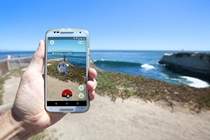 Russia's Sberbank has offered free accident insurance to players of Pokémon Go – and equipped Sberbank branches across Russia with special modules that attract Pokémon – in an effort to engage with consumers.
Pokémon Go is a mobile game based on real geolocations, asking players to explore their cities in order to catch little monsters.
While looking for Pokémon, Pokémon Go will be offered free accident insurance by Sberbank so that players can concentrate on the game fully. To activate the free insurance, players will need to visit a Sberbank website and enter their nickname and mobile phone number.
In addition, all PokéStops near Sberbank branches across Russia will be equipped with special modules that attract Pokémon.
The modules will allow players to visit a nearby Sberbank office and catch missing Pokémon without having to move around the city. The modules will be active during the Sberbank offices' working hours.
Commenting on the insurance innovation, Maxim Chernin, head of IC Sberbank Life Insurance, said:
"As the biggest life insurance company in Russia, we feel our responsibility for the participants of Pokémon Go, the game that gains immense popularity now. Considering the number of news from around the world about players being injured while catching Pokémon, we created a special product that will be free for the players."
Chernin added: "It is also important for us that the product will help to raise the financial literacy of the population: while playing, the younger generation will be able to get acquainted with such [a] financial tool as insurance."