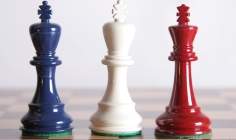 Pacific Life Re has appointed former AIG Life MD, Darren Spriggs, as managing director of its Europe business unit.
Spriggs led the AIG Life business – which was formerly Ageas Protect – over a number of years, culminating in the successful sale of the company to AIG in 2015 as a going concern.
He joins Pacific Life Re in a newly created role where he will be responsible for the leadership and strategic direction of Pacific Life Re's Europe business unit.
Pacific Life Re said the creation of the role reflects the continued growth and expansion of its reinsurance business around the world.
For example, within the last year Pacific Life Re has launched a new business unit in Australia.
Dave Howell, CEO, Pacific Life Re, commented: "These are exciting times for Pacific Life Re and we are committed to building on our high-calibre team so that we continue to deliver outstanding support to clients as we grow. Darren has a wealth of knowledge and experience at a senior level and is a great addition to the business."
Commenting on his appointment, Spriggs said: "I'm delighted to be joining such a successful and innovative business at this pivotal moment in its growth and development, and aim to put my previous experience as a broker and then as an insurer to good effect."