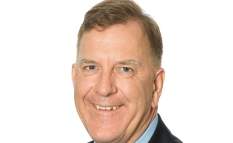 International accounting and advisory firm Mazars has appointed insurance expert Michael Tripp as its new head of financial Services in the UK.
With Rudi Lang dedicating more time to his role as leader of the firm's global financial institution's group, Mazars said Tripp has been appointed given his credibility and reputation among his peers and colleagues throughout the firm, along with his extensive experience in financial services.
He is an actuary with over 35 years' experience, with a particular focus in the insurance industry gained both as a senior executive and a consultant.
From 2007 to 2013, he was group CEO of Ecclesiastical Insurance, and before that a partner with EY and Watson Wyatt.
In the 1990s he led GRE's UK Personal lines business and in the 1980s its strategic planning activity.
He chaired Ecclesiastical Life and was a board member of Ecclesiastical Asset Management.
Commenting on his appointment, Tripp said: "Mazars has a strong pedigree in financial services. I aim to build on our cohesive proposition to deliver the high levels of service our clients expect from Mazars."
Phil Verity, UK senior partner at Mazars, said Tripp's new appointment allows for the growth and development of its financial services offering, both in London and internationally, and reflects his reputation, success and the support he has had from his colleagues at the firm.
The financial services team at Mazars covers insurance, banking and asset management. Over 300 employees and partners across the UK specialise in international audit and assurance services as well as governance, internal audit, regulation and compliance, taxation, claims management, general consulting, quants, actuarial, predictive analytics and enterprise risk.