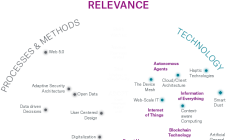 IT-Trends 2016 radar for the insurance industry – first published by Munich Re – identifies relevant new technologies for ERGO, MunichRE and MEAG and evaluates them from a group perspective.
It focuses on the innovation potential of individual trends and review their practical suitability for the reinsurance and primary insurance sector.
The IT-Trends 2016 radar is a collaborative initiative by Global IT Governance at Munich Re and ERGO IT
Strategy.
Source for IT-Trends 2016 radar: Munich Re
Blockchain techology
The report, for example, notes that Blockchain technology provides a shared, trusted and secure public ledger to record financial transactions / digital assets and 'smart contracts'.
These are recorded independently – not in one place but distributed across a multitude of computers around the
world. The records are condensed (into blocks) and interlinked (to form chains), using complex cryptographic algorithms.
Thus Blockchain records are locally decentralized in a peer-to-peer network but still constitute a logically centralized immutable set. No central authority or trusted third party is required to secure transactions.
Machine-based learning
The report also notes that machine-based learning is described as the science of getting computers to act without rules-based programming.
One of the goals in this field is the replication of cognitive capabilities of the human brain and the development of algorithms / computer programmes that teach themselves.
The report explains that Advanced Machine Learning uses new data in order to improve programmes and adjust program actions according to recognized patterns in new data. Advanced Machine Learning is related to the trends Algorithmic Business and Autonomous Agents.
According to the IT-Trends 2016 radar, the Artificial-intelligence system Quill provides data-based intelligent storytelling narratives by generating natural language through data analysis.
The system is able to write reports in seconds with a quality of a human author using data from specific data sources.
Read the full report here: https://www.munichre.com/site/corporate/get/documents_E656353394/mr/assetpool.shared/Documents/0_Corporate%20Website/2_Reinsurance/Topics%20Online/2016/IT-Trendreport-2016_Munich-Re.pdf