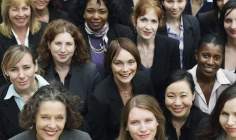 Insurance has become the first profession to sign up to the UN Women's global HeForShe initiative.
A range of sector leaders and executives publicly committed to make gender equality – and diversity in all its forms – a reality for insurance.
The Chartered Insurance Institute (CII) said this is a first for a sector that is traditionally regarded as conservative and male-dominated.
The HeForShe movement provides an inclusive platform for men and women to speak out for gender equality and acknowledge the ways that society benefits from this equality
The campaign is one part of the CII-led Insuring Women's Futures programme (IWF), which seeks to better understand the risks women face, and how to better respond to these under-appreciated needs.
CII CEO Sian Fisher, who is chair of the IWF committee, said the insurance profession is committed to driving change. She said: "Women are demonstrably less likely than men to protect themselves through insurance and financial planning."
Fisher added: "Recognising this, the insurance profession has taken a stand today to recognise that this is not a 'gender' issue. It is a risk for society and our male as well as female colleagues are showing their commitment to tackling it. I am also delighted that so many influencers and leaders have made their personal commitments to diversity public through this campaign. We all know that change comes from the top, and all of us will be looking forward to seeing what customer benefits will be born as a result."
The launch event was hosted by the CII and the Insurance Institute of London, as part of the Insuring Women's Futures programme.
The event kicks off a year-long CII HeForShe initiative, and insurance professionals can pledge their own commitment via www.insuringwomensfutures.co.uk/heforshe. #iwfCII and #iwfHeforShe.
ABI pledge
Speaking at the launch of the HeForShe campaign, ABI Director General, Huw Evans, made a pledge to mentor two women from the ABI's Future Leaders programme for up and coming senior leaders, or it's Why Insurance Matters programme for those new to the industry.
Evans said: "We have a huge amount to do to ensure we attract women to our industry and keep them here. Improving our sector's diversity and inclusion is vital to our future success, not a 'nice to have'.
"I'm a big supporter of 'HeforShe' because it presents all of us with a practical opportunity to do something and enables us to pick something achievable so that it will not get put in the 'too difficult' pile. I have decided to focus my pledge on two areas that affect the talent we get in and retain within our great industry; at entry level and at future executive development."