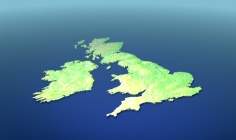 Customer satisfaction in the insurance sector has increased over the past year, reveals the UK Customer Satisfaction Index (UKCSI), which is published by The Institute of Customer Service.
The UKCSI gave the UK's insurance sector an overall customer satisfaction rating of 79.4 out of 100 – 0.7 points higher than its January 2016 score.
Twelve organisations within the sector have improved, said the UKCSI. LV= tops the tables as the highest scorer in the industry, with M&S as the most improved.
This year, despite the increase in satisfaction, the insurance sector has experienced a 9.9 point drop in Net Promoter Score, suggesting it is becoming harder to insurance organisations to earn customer advocacy.
Insurance also generates fewer problems and complaints for its customers than most sectors. 9% of customers had a problem, up from 8% in January 2016.
The UKCSI said the sector has improved on most measures, except for price and those associated with speed, such as speed of response to written communications and speed of service in person.
Consistent with the national trend, the sector's biggest improvements were for measures around managing complaints, each of which improved by at least 1 point (out of 10).
Despite the overall increase in customer satisfaction, the UKCSI said there has been an increase in the score for customer effort – in other words, customers said they had to expend more effort in dealing with organisations than they did a year ago.
For example, 62% of people said it has taken them more than two attempts to get a problem fixed with businesses in the insurance sector.
The UKCSI noted the extra staff time spent on repeat customer contact to resolve issues is arguably time which could be better spent, with businesses able to save money on staff hours if a focus is placed on 'getting it right first time.'
Jo Causon, CEO of the Institute of Customer Service, commented: "Generally speaking, it's been a great year for customer service in the insurance sector, with consumers telling us that businesses are improving overall experiences by getting things right first time and dealing with complaints faster and more efficiently.
"However, these factors do not necessarily translate into customer loyalty and recommendation. Just being 'good' is no longer good enough, and organisations should think about how they can deliver outstanding service at all times."
Causon added that better consistency is needed across different channels.
"Engagement through digital methods such as email, text, apps and webchat functions have all increased in the last year, and these are the channels through which it's most difficult for customer service staff to show empathy. Organisations therefore need to make sure that their staff are highly engaged and highly skilled, as every customer interaction – regardless of the channel it's on – counts towards business performance," said Causon.
The UKCSI is the national measure of UK customer satisfaction. It rates customer satisfaction at a national, sector and organisational level across 13 sectors – individually rating many leading organisations. The Index has run every six months since January 2008 and involves interviews with 10,000 UK consumers.