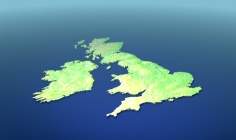 UK-based digital group risk insurer, Ellipse, has appointed Lee Lovett as its new CEO. Lovett succeeds Ellipse's current CEO John Ritchie, who will leave the business on September 14.
Ellipse said Ritchie has led the business since its launch to the UK market in 2009, overseeing a strong, sustained period of growth.
On his time at Ellipse, Ritchie commented: "There is a great team at Ellipse and we have built a market leading digital platform that enables advisers to do group life and disability business economically in all segments. Personally and professionally I have loved almost every day of it."
Lovett has been with Munich Re for eight years, and brings significant experience to the business from many previous roles in the UK life and disability insurance sector. He is already well known in the group risk industry as chairman of the industry body GRiD.
Commenting on his appointment Lee Lovett, who will be leaving his position as head of business development at Munich Re to join Ellipse, said: "I am delighted and feel privileged to be given the opportunity to lead the Ellipse business, and look forward to continuing the good work that John and the team have done in growing the business."
Ellipse is the trading name of the UK branch of ERGO Lebensversicherung AG, a wholly owned subsidiary of Munich Re.