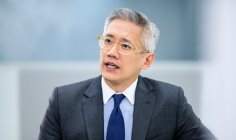 Friends Provident International Limited (FPI), which is part of the Aviva group, has appointed Chris Wei as chairman and Khor Hock Seng as CEO effective from 1 July 2015.
FPI said the appointments are an extension of Wei and Seng's current responsibilities at Aviva, and follow the announcement in April that John Van Der Wielen, currently executive chairman of FPI, will step down on 30 June 2015. Van Der Wielen will remain on the board of FPI as non-executive director.
Wei, CEO global life insurance and chairman Asia, took overall responsibility for FPI in April 2015, as part of Aviva's acquisition of Friends Life Group.
He joined Aviva in 2014, has extensive experience in the Asian market and the global life insurance sector and has held a number of senior roles across the savings, pensions and insurance industry, including CEO of Great Eastern Holdings.
Seng was appointed CEO of Aviva Asia in 2013. Before joining Aviva, he had held a number of senior roles including chief executive and managing director of AIA's Malaysian business. Seng will continue to report to Wei.
James Tan, managing director Asia; Marcus Gent, managing director Middle East and rest of the world; and Chris Gill, general manager Singapore will continue in their roles at FPI. Tan and Gent will now report to Seng.
Both Wei and Seng's appointments are subject to regulatory approval.
Commenting on his appointment, Wei said: "I am excited about FPI's potential. Aviva Asia and FPI are largely complementary and today's appointments confirm our intention to bring both businesses closer together, maximising their combined potential and accelerating our growth in selected markets in Asia and the Middle East.
"I am delighted that Khor has agreed to take on the additional responsibility of CEO of FPI. Khor has played a key role in growing Aviva's Asian business and will bring his strong operational skills to FPI."