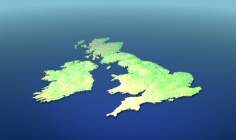 The Financial Conduct Authority (FCA)'s proposal to make it easier for consumers to compare different providers in the annuity market will increase competition and put further pressure on the profit margins of UK life insurers, says Fitch Ratings.
The FCA has proposed that from September 2017 retiring policyholders have access to an "annuity comparator" before they purchase an annuity.
This would show the difference between their provider's own quote and the highest quote available on the open market. It would include a prompt to help customers access the best rate.
Fitch Ratings said firms could lose many of their most profitable policy sales if more customers shop around for a better annuity rate.
The ratings agency believes the introduction of the comparator would have the greatest impact on insurers such as Prudential and Standard Life that focus on selling business to existing customers, rather than via the open market.
Fitch said such companies might see a material decline in annuity sales as customers are made more aware of alternative providers.
Annuity rates can vary by 20% or more in the open market. The ratings agency said the comparator would force insurers offering less attractive annuity rates to increase them or face losing market share, leading to higher average annuity rates and therefore lower average profit margins.
Fitch explained that profitability in the UK life annuity market has already been significantly affected by the sharp decrease in the business following the removal of the requirement for pensioners to buy an annuity at retirement in the 2014 budget.
Fitch Ratings said: "Several insurers have withdrawn from the annuity market in the wake of the pension changes, while those remaining have been increasingly looking to the bulk annuity market to make up lost volume. We expect the FCA's proposal to accelerate this shift. Increased capital requirements from the introduction of Solvency II have also reduced the profitability of annuity lines."
According to the Fitch Ratings, testing by the FCA found that showing policyholders the annual increase in income that could be gained from purchasing an annuity on the open market led to a 27% increase in the number of policyholders going on to compare products from different providers.
"Previous FCA investigations have found that 60% of annuity customers buy an annuity from their current provider, and that the average benefit of switching annuity providers is an increase in annuity income of 6.8%, equivalent to a GBP1,500 top-up of the premium," said Fitch Ratings.