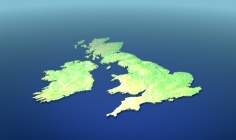 Cigna Insurance Services, which is part of US-based health insurer Cigna, is to enter the individual UK life insurance market this year, extending its proposition for the affinity market.
The company said its range of individual life insurance products targeted for affinity partners' customers will be straightforward, easy to understand and convenient to buy and remove the traditional complexity associated with life products.
Cigna Insurance Services stressed that it will be deploying its considerable experience of working with affinity partners across many sectors to make life insurance protection available to customers in new ways.
Citing research from Gocompare.com, Cigna Insurance Services said since fewer than one in three people (28%) in the UK have sufficient life insurance and savings to clear their mortgage and other debts, and to provide a reasonable level of income for their family and dependents, there is significant potential for affinity partners to better serve their customers' needs.
Susan Stevenson, CEO of Cigna Insurance Services, said: "Cigna's UK individual life insurance proposition will be to collaborate with affinity partners to unlock the enormous potential. Together, we will breathe new life into the industry, bringing innovative, affordable and accessible solutions to the stagnant UK life insurance market."
Stevenson said many life insurance products are simply too complex, inaccessible and unaffordable for those customers who only need basic cover. She added that the Retail Distribution Review and Mortgage Market Review are between them having a profound effect on the supply side.
"This means that more and more consumers are simply not being presented with the opportunity to buy life insurance – even where they have a clear need," said Stevenson.
She added: "We see this as a big opportunity for affinity partners to offer life cover to their customers and create new valuable income streams for their businesses. We firmly believe that affinity partners have been let down by the insurance industry and are looking for new solutions which help them achieve their full potential in this market.
"Cigna will offer more than just products to our affinity partners – using our experience, we will help our partners engage with their customers in new ways, with compelling propositions and marketing solutions that open up a new dialogue around greater financial protection."
Cigna Insurance Services re-branded from FirstAssist Insurance Services in September 2013. On its website the company says that for over three decades, Cigna has been a 'silent partner' in its markets – working behind many of the UK's largest brands.