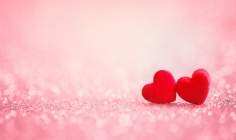 Chinese life insurer, China Life, has launched 'love insurance' for young romantics – meaning love can be a bed of roses this Valentine's Day.
While traditional insurance is a means of protection from financial loss and is a form of risk management primarily used to hedge against the risk of a contingent, uncertain loss – the concept behind love insurance is a reward for living 'happily ever after.'
To obtain love insurance from China Life, a consumer pays a one-time fee of CNY299 (£35) (RMB199) if both are students, submits the identification information for themselves and their loved one and, if they marry each other between three to 13 years after the insurance was purchased, the policyholder will receive 10,000 roses for their wedding – enough to cover a 30-square-meter room.
China Life's love insurance is reportedly designed 'to guide the younger generation to develop a positive attitude towards love and relationships. It's also intended to be a blessing to university student couples and military couples'.
In addition to China Life, Answern Insurance is also reportedly offering a love insurance package for 399 yuan (£47).
Students get a discount, with sweethearts getting a reduced rate of 299 yuan (£35). If they provide a marriage certificate three years later, they are gifted with a heart-shaped diamond.
China Daily reported that one undergraduate surnamed Ning reportedly splashed out on love insurance for him and his girlfriend.
Ning was reported as saying: "We started our love relationship around Singles Day last year, and it's been almost a year now. We are going to graduate next year. I bought love insurance for 299 yuan ($44) for my girlfriend in the hope that our love will last a long time."