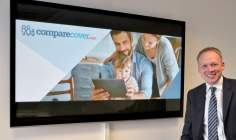 A UK life insurance price comparison website – offering a commission sharing, no fee model -has launched, which also supports selected local charities by a donation for every policy purchased.
comparecover.com has been designed by Investment Discounts Online.
Paul Tyson, comparecover.com managing director said: "The comparecover.com price comparison website will feature market leading life insurance products from well-known UK providers including Zurich, LV, Legal and General, and AVIVA, all of which will offer a reduced premium as a result of comparecover.com taking less commission from the providers."
Tyson said comparecover.com's site has been designed to be extremely user friendly and informative, meaning products and packages can be easily compared, contrasted and purchased on line.
"We also have a dedicated customer service team to offer personalised support where needed as well as the ability to introduce customers to a qualified adviser should this be required," said Tyson.
Comparison site's business model
comparecover.com receives a commission payment from the insurance provider for each policy sold through the site, but says it is committed to helping the customer find the best policy at the best price.
It stated that getting quotes is completely free.
Providers share the commission comparecover.com receives with the customer. According to comparecover.com, this reduces the price of the policy and means that comparecover.com can offer lower prices than buying directly from a bank or insurer.
If customers receive a lower quotation for a policy elsewhere, comparecover.com will try to match it. The quotation must be for the exact same product from the same provider.