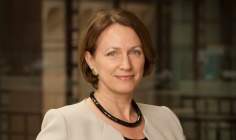 In the wake of the UK's Brexit vote, Lloyd's of London CEO Inga Beale has said given Lloyd's position at the heart of the global insurance and reinsurance sector, she has "every confidence" it will continue to flourish.
Beale made the comment in a letter to managing agents on 24 June in which she stressed that Lloyd's will be putting into action a contingency plan to ensure that Lloyd's can continue to access its key European markets.
On 30 June and on 4 July, Lloyd's has breakfast meetings with managing agent CEOs to discuss the outcome of the UK referendum.
Following Beale's letter to the MA CEOs on 24 June, Life Insurance International (LII) understands the meetings are an opportunity for CEOs to discuss their views on the options available to the corporation, and participate in a consultation on the corporation's execution of the contingency plan.
A spokesman for Lloyd's said as the contingency phase moves into the implementation phase, managing agents' views on their preferred route forward will play a key part of the Corporation's thinking.
Lloyd's plan for Europe
Lloyd's has stressed that until the point that UK membership of the EU officially ends it continues to be a full member of the single market, compliant with all current rules and regulations.
Lloyd's and the Lloyd's market will remain subject to Solvency II and retains all current rights in EU markets.
This means no existing policies or renewals written whilst a member of the EU will be affected by the referendum
Multi-year policies remain legally binding, regardless of when the UK formally leaves the EU.
It said it has been working on plans to protect its access to the European market.
In a statement, Lloyd's said: "We have analysed in-depth each European market and our strong preference following discussion is to operate under a passporting system, similar to what we do today. As we move from contingency to implementation we are:
I. Engaging with the UK government at all levels to push for similar passporting arrangements;
II. Entering into discussions with regulators across the continent;
III. Maintaining a dialogue with the market, industry, coverholders and customers; and
IV. Conducting further analysis of the EEA territories and their impact on Lloyd's."