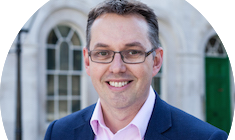 UK-based insurance start-ups are set for an uncertain and potentially expensive period following Brexit, according to John Warburton the co-founder of technology-focused commercial insurance broking company, Konsileo.
Warburton said that unless start-ups are prepared to register themselves in an EU country they will struggle to get investors on board.
Speaking of his own experience at Konsileo, he said: "We have a long-term plan to go to other EU countries, so in addition to getting ourselves registered in the UK – which takes five months and costs a fair amount – we'll have to do it in Ireland as well, just so our investors can see a path to us being in the EU as an organisation."
"There will either be much less investment in start-ups while the uncertainty is going on, or start-ups will have to do what we are [doing] and spend another £5-10k to get regulated in another entity," he continued.
Warburton also identified a reduction in the talent available to the UK as one of the main downsides, alongside the uncertainty surrounding investors.
"The UK is brilliant for start-ups, it's a magnet for talent from all over the world, and particularly from Europe. It's highly fluid and highly energizing, so [with Brexit] that is now a bit at threat."