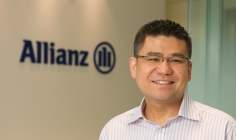 Allianz has appointed Robin Loh as chief digital officer for Asia Pacific effective from 1st July 2016.
Loh will oversee Allianz Asia Pacific's advancement toward a digitally-led and customer-oriented business model, which includes growing the company's digital platforms in the region, exploring new partnerships, as well as digitizing processes and operations.
George Sartorel, regional CEO, Asia Pacific, Allianz, said: "Creating this CDO role also demonstrates our commitment to delivering innovative solutions to meet the rapidly changing needs of our regional stakeholders."
Loh served most recently as general manager at Ping An Fintech Company, a subsidiary of insurer Ping An Group, where he spearheaded the creation of their integrated digital financial platform in China, and led successful collaborations with both domestic and international players.
Previously, Robin was associate partner at Mckinsey & Co., where he focused on financial services strategy, digital banking, e-commerce and next-generation IT.
Loh will be based in Allianz's Asia Pacific headquarters in Singapore, and will also join the company's regional executive board, which is responsible for setting and executing Allianz's growth strategy in Asia.
He will report into George Sartorel, and also work in close coordination with Allianz Group chief digital officer Solmaz Altin.