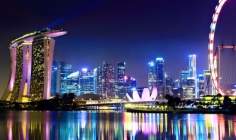 AIA Singapore has launched the AIA Vitality Weekly Challenge mobile app that allows members to participate in health-related activities and get rewarded when they hit activity targets.
Members who earn 250 AIA Vitality points in a week from participating in physical activity such as walking, running or gym sessions will be able to redeem Cold Storage, Starbucks or Uber vouchers worth $5 each week.
Members can earn the points simply by clocking 7500 steps a day from walking which translates to 50 AIA Vitality points. They can also choose to work out at AIA Vitality fitness partners and earn 100 AIA Vitality points for every workout.
Wellness programme
The AIA Vitality Weekly Challenge is part of AIA Vitality, a comprehensive wellness programme that applies the principles of behavioural science to keep individuals motivated to make healthy choices.
The programme also provides the knowledge and tools that enable individuals to understand, monitor and improve their health. To date, AIA Vitality said its membership has grown steadily at 40% year on year.
AIA Singapore said it is also bringing on board new AIA Vitality medical and retail partners to give members more options for healthy living.
Healthy options
This allows individuals with different preferences to discover healthy options that best work for them and develop healthy habits that stick. New partners include healthcare provider, Healthway Medical, nutrition consultancy, Health Can Be Fun, and leading sports apparel company, Under Armour.
Ho Lee Yen, chief marketing officer, AIA Singapore, said: "Singapore's sustained social and economic development is dependent on its people and a healthy population is critical. This is why AIA Singapore has been investing in the health of Singaporeans and AIA Vitality Weekly Challenge is just one of our numerous efforts to drive health and wellness in Singapore.
Through our health and wellness initiatives, we hope to inspire behavioural change and influence healthy habits, and in the long run, create a healthier Singapore."