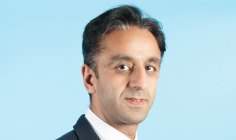 Deepak Jobanputra, deputy CEO of UK life insurer VitalityLife, tells Ronan McCaughey about its approach to innovation and why for a business to be successful in the current environment, there has to be shared value. He also shares his thoughts on wearable technology and the importance of understanding the issues consumers and brokers face in order to be successful
Life Insurance International (LII): What is VitalityLife's current business strategy in the UK protection market and how is Vitality Life differentiating itself from its competitors?
Deepak Jobanputra (DJ): Our strategy focuses around innovation and aiming to be a force for social good. We do that by looking at the social issues that exist in the consumer environment and every year we have had a major product launch to meet specific consumer needs.
For example, since we entered the market late in 2007 and early 2008 with our serious illness cover proposition, this has changed the market.
Serious illness cover is very different to critical illness cover in that it looks to provide comprehensive cover and pays out on a severity basis.
The market was initially very sceptical to our severity-based pay-out model, but over the years the product has been a huge success and we have won several awards for it.
We have also seen the whole market follow and copy elements of our severity and partial payments structure.
Our strategy is centred around continual growth. We have seen tremendous growth over the last seven years and that has been consistently strong in both new business premiums and profitability.
LII: Can you add any recent profitability figures?
DJ: For the year ending June 2015, compared to the year ending June 2014, VitalityLife's
pre-tax operating profit was up 21% to £30.1m ($45.8m). New business sales increased by 16% to £60m; and the UK business now covers 317,855 customers, an increase of 28%
We believe for a business to be successful in the current environment there has to be shared value.
LII: What do you mean by shared value? How can 'shared value' generate life IInsurance revenue?
DJ: What we mean by shared value is that it has to work for everyone: consumers, us an insurer and society as a whole, effectively creating a situation where there are no trade-offs.
For example, we have developed our lifestyle care product that helps to address the ever growing 'care gap' that is driven by people living longer, but living longer with illnesses and disability in old age. This is a big issue facing UK society.
The lifestyle care product is a whole-of-life contract that pays out on death, but in the event that a person becomes ill with specific conditions earlier, such as Parkinson's disease, stroke or dementia, it will pay out a sum of money much earlier. This money could be used for care support, for example. This offers a unique solution to growing societal issue.
LII: How important is wearable technology for VitalityLife?
DJ: Wearable technology has a very natural fit with VitalityLife because of the Vitality programme. We try to give customers some means of understanding and managing their health and wearable technology is an enabler that facilitates this. Devices such as smart watches can measure physical activity and medical information. This can be used to encourage consumers to change behaviour.
As wearable technology evolves, I think there will be far more we can do with it to help consumers manage their health better. The pace of change in this arena is vast and I believe will change the way insurance works for the benefit of consumers and wider society.
LII: What process does VitalityLIfe follow to understand what consumer drivers?
DJ: We do an extensive amount of research. We engage with consumers up and down the country to understand the real issues they face and what works for them and what doesn't.
We do the same with brokers. We listen very carefully to what they say would work and sell because they speak to the customers everyday.
Alongside that, we speak to a lot of medical specialists to gain insight into changes in medical technology.
LII: Being a relatively new insurer, how is VitalityLife using digital technology to make life insurance engaging and simple for consumers?
DJ: We take a wide-ranging approach to interacting with consumers. Through Vitality, the healthy living programme, we are uniquely placed for our customers to engage with us daily. We do have an app that allows customers to engage with the programme. We interact with our customers with regular communications that supports healthy behaviours.
We have online capability in that clients can submit their applications online and they can receive their insurance documents online.
Being only 8 years old, we are a relatively new insurer whereas other companies are 100 years old. So we are very fortunate not to be held back by legacy types of issues.
LII: What areas have you identified that VitalityLife needs to improve on?
DJ: We have been doing our ongoing reviews of the business and we are really pleased with how things are going.
However, we want to reach more consumers. That is why we are investing in the brand through Stanley the dog and the Vitality pink colour in our branding.
About VitalityLife
VitalityLife is the business formerly known as PruProtect. PruProtect was launched in 2007 as a joint venture between Prudential and Discovery, the global insurer that invented Vitality. In 2010, Discovery increased its shareholding to 75% and has now taken full ownership of PruProtect. As a result, PruProtect changed its name to VitalityLife.
Editor's analysis: Lessons to learn from VitalityLife
1. Unlike some other insurers, VitalityLife positions itself as not just waiting for the worst to happen, but instead encourages its clients to lead a healthier life and incentivises them to do so by offering rewards and discounts on for example, gym, flights, days out, spa breaks, travel and cinema tickets
2. VitalityLIfe recognised the need to take a different approach in the competitive UK protection market after conducting thorough consumer research. This approach has led Vitality to build a unique brand, which uses humour – featuring Stanley the Dachshund dog – for the UK population to resonate with
3. Vitality has partnered with a number of Vitality Ambassadors, sports stars Jessica Ennis-Hill, Sebastian Coe and Jonny Wilkinson to be role models
Vitality is Official Wellness Partner of Arsenal FC, AFC Bournemouth, Liverpool FC, Manchester City FC, England Rugby, Scottish Rugby, the Welsh Rugby Union, Cricket's UK Test Match Grounds and England Netball. The business is also title sponsor of the Vitality Run Series and Official Partner of The Sunday Times and Sky Sports Sportswomen of the Year Awards in association with Vitality.
4. Innovation requires taking calculated risks. Despite the market being initially very sceptical to its severity-based pay-out model, Deepak Jobanputra says the product has been a huge success and VitalityLife has won several awards for it.