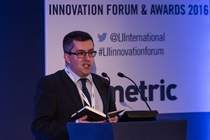 The life insurance industry has been urged to "tell a story, find the need and the moment of truth" in order to more effectively innovate and connect with customers.
This was one of the key messages from Eoin Lyons, CEO of UK-headquartered technology and administration services provider, OPAL, at the recent Life Insurance International Innovation Forum 2016, which was held at The Tower Hotel in London.
Lyons said a challenge facing protection insurance is that it is usually perceived as a non-essential grudge purchase.
In Lyons' view, the industry often tends to focus on designing a better product, making marginal service improvements, rather than telling a story or creating an experience.
In terms of engaging a customer making a grudge purchase, Lyons noted that loyalty business models have developed in other sectors, such as nectar points and Avios
He also highlighted the success achieved in getting people to wear seatbelts as a case study for the protection insurance market, and an example how other industries have overcome challenges.
In the case of seatbelts and its relevance for the protection insurance market, Lyons explained that Volvo gave its 3-point seatbelt invention patent to rivals for free.
They were fitted as standard in all vehicles from 1963, yet adherence was still less than 10%.
The government then started educating drivers and passengers about the importance of seat belts and incentivised.
The result was that in one generation adherence had shifted to more than 85%, said Lyons.
Disruptive business model themes
According to Lyons, disruptive business models share some common themes including:
They take advantage of existing technology
They work out how to deliver an easy and immediate solution for their customer
Service or increased value is offered digitally
There is some element of trusted information
In order for the life insurance market to grow and innovate, Lyons proposed that the industry aligns with other stakeholders. Lyons commented: "Play where people play. Make it easy. Digital."
During the packed LII Innovation forum, industry experts analysed the dramatic change impacting the global life and health insurance industry with the growth of new technology, substantial regulatory change and rising consumer expectations.
To deal with the changing landscape, the forum highlighted practical ways to use technology for life and health insurance innovation in underwriting, as well as innovative ways to grow the group risk market.
It also compared major international insurance reforms, heard insights from a market entrant driving change – and examined how InsurTech can shape the future of life and health insurance for an ever demanding market.
Phil Jeynes, head of sales and marketing at UnderwriteMe, said digital change is possible for the life insurance market, but it needs "foresight and investment".
He commented: "We are the only industry that can lower prices and sales. The reason the market is stagnating is a lack of true innovation."
Group risk insurance opportunities
Ron Wheatcroft, technical manager, vice president, EMEA at Swiss Re Europe, examined the group risk insurance opportunities and challenges during his presentation.
To put the group risk market in context, Wheatcroft explained that half of the UK adult population has a life assurance shortfall. On average, this amounts to around £100,000, four times average earnings.
He said: "We estimate that over 20m people would be dependent on state benefits if [they were long-term sick."
Aligning the interest of employers and members therefore matters as Wheatcroft explained because it reinforces that employers are caring for workforce at a time when the ability of countries to support benefits is likely to decline.
Aligning the interest of employers and members is also a differentiator for good employers as pension provision becomes driven by state intervention, said Wheatcroft.
Discussing the challenges facing the market, Ian McKenna, director of the UK-based Finance & Technology Research Centre, warned that insurers tend to be short-term focused with a view to new business.
He also stressed the poor customer experience of life insurance in the UK.
At a time when "advisers are turning away from protection in droves", McKenna said the life insurance market needs to focus on service.
He also emphasised the importance of sending out a positive message about the protection insurance market, and encouraged the market to spend its money collectively "to get its message across".