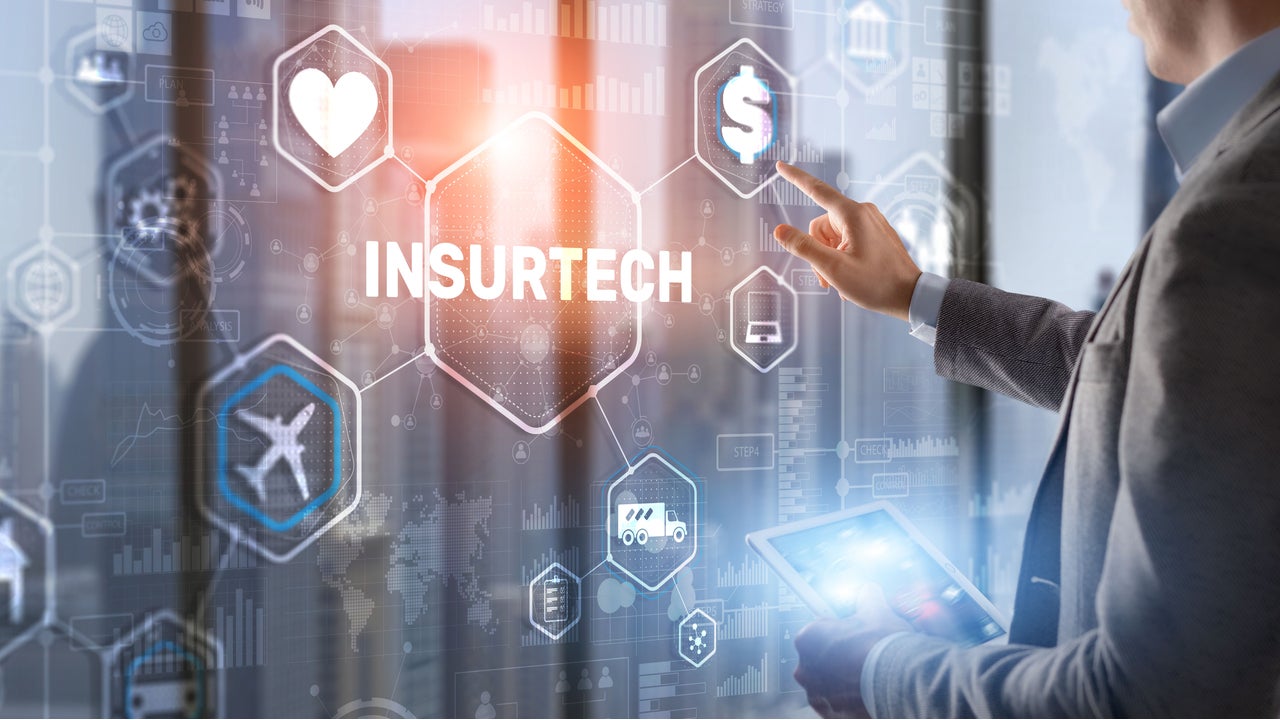 Insurance start-ups are adopting a range of insurtech technologies such as blockchain and artificial intelligence (AI) to differentiate themselves from the traditional players in the industry. Incumbents are incorporating these technologies into their operations to meet consumer demand for fast and simple digital services.
Listed below are the key technology trends impacting the insurtech theme, as identified by GlobalData.
AI
Insurers and insurtechs often have a chatbot that can deal with simple customer queries or help them along the quote or claims process. Brolly, a digital insurance app, uses AI to scan a customer's email account, download all their insurance policy data, notify them when the policy is about to expire, and outline better deals that are available. AI is also set to become a key part of the motor market. The technology is already key to telematics, with its ability to detect bad driving patterns and alert emergency services in the event of a crash, but the increased safety of partly or fully autonomous cars will completely transform the industry.
AI also affects the automated home, where the combination of AI and internet of things (IoT) introduces a new level of automation allowing a single voice command to trigger a series of events. Certain platforms allow users to combine various tasks into a single workflow, which is then triggered by a command word or phrase picked up by a smart speaker. Another AI technology that will have a significant impact on the automated home is computer vision, which includes both facial and image recognition. This will allow security cameras to recognise people or even animals and decide on the appropriate action.
Autonomous vehicles (AV)
Fully autonomous vehicles are still 10-15 years away from primetime but the pandemic has served to accelerate the need for last-mile contactless delivery, and it is here that we expect real-world use cases to proliferate. The industry is expected to invest heavily in the development of autonomous vehicle software that uses sensor-fed machine learning algorithms.
Companies like Alphabet's Waymo, Tesla, Uber, Baidu, Aptiv/NuTonomy, NVIDIA, Intel/Mobileye, and GM Cruise are all competing to be the leading players in this sector. The path towards full vehicle autonomy is rockier than many predicted, but when it does arrive it will pose a significant threat to incumbent insurers. The worldwide leader in the field, Tesla, has already launched its own insurance product for its customers, which could become a theme once human error is eliminated from driving.
Big data
Big data and analytics have been the most influential aspect of the digitalisation of insurance and insurtech, transforming underwriting and allowing insurers to monitor and improve customer behaviour. This saves both customers and insurers money and is prevalent in personal and commercial motor, health and life, pet, and personal and commercial home. Providers should look to leverage the data gathered to provide more tailored policies, allowing policyholders to benefit not only from a more preventative product but also more personalised premiums.
Blockchain
Blockchain technology, often referred to as distributed ledger technology, is a means by which the participants in a distributed network can each maintain a copy of an immutable ledger of transactions. The transactions can be executed without the need for a single, central coordinating authority. Blockchain emerged as a hot topic within insurance a few years ago but has faded more recently as it is yet to have the predicted impact. However, its simple ability to execute a smart contract flawlessly has led to its use in a few emerging start-ups.
Cybersecurity
Cybersecurity is a key theme in the insurance industry, with the Covid-19 pandemic heightening the issue. It has forced people and businesses around the world to move online, which has exposed people to cyber-attacks. Taking people out of offices has also made companies more vulnerable to attacks.
The cyber insurance market continues to grow, with both incumbents and challengers holding a presence within the space. Insurtech challengers tend to be cyber specialists that look to offer an all-encompassing approach. They tend to offer security platforms to help prevent attacks, staff training, and 24/7 helplines, with prevention being the key theme of the product.
IoT
IoT refers to a world where various devices are connected to the internet with a view to automating more of our lives, saving energy, and making industrial processes run more efficiently. They work as a gateway, enabling users to control compatible connected devices throughout their home without relying on a smartphone, making them extremely useful. Other devices that are core to connected home insurance products include leak detection devices, connected smoke alarms, and internet-connected security cameras.
Legacy systems
Dated legacy systems are one of the main things holding back traditional insurers. Insurtechs have been able to move forward and adapt quickly, while many insurers have been held back by systems they have had in place for years. Insurers and brokers stuck on old systems have struggled to keep up as systems are constantly evolving in line with emerging technology such as the cloud. Data analysis and creation of actionable insights becomes challenging when insurers store data on such legacy systems.
This is an edited extract from the Insurtech – Thematic Research report produced by GlobalData Thematic Research.