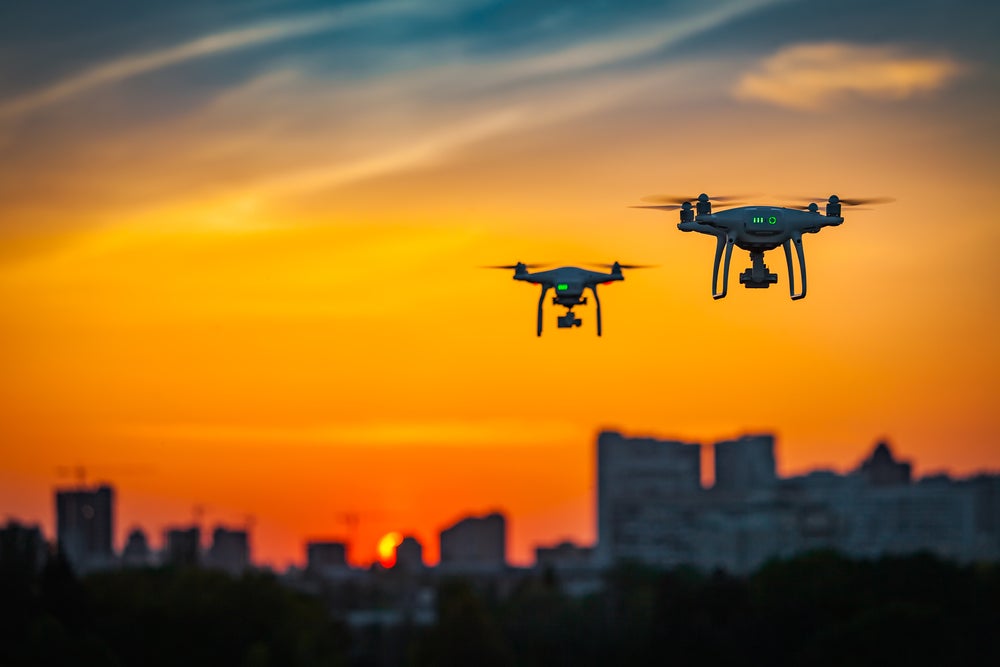 The use of drones for both commercial and recreational purposes is growing strongly, with GlobalData estimating that the global drone market will be worth in excess of $40bn by 2028. Not only can insurers benefit from deploying drone technology to accurately assess losses across vast areas of land in a cost-effective manner, but they can also provide cover for other industries and consumers using drones.
Drone technology and insurers: a perfect relationship?
The most common applications of drones leverage artificial intelligence (AI) for image recognition, allowing them to analyse images and videos to identify objects. According to GlobalData's 2020 Emerging Technology Trends Survey, 58% of insurance businesses worldwide cite that they are familiar with AI and 49% believe the technology will be a disruptive force for the industry. Although drones are predominantly used for military purposes at present, the speed of adoption in other settings means they are poised for strong growth. GlobalData estimates that the global drone market will be worth $40.7bn by 2028 – up from $17bn in 2018 – implying an annual growth rate of 9.1% over the decade as per findings from GlobalData's Thematic Research: Drones report.
Today, commercial drones are employed in industries reliant on aerial images such as agriculture, construction, insurance, energy, and military. In all these industries, drones are used to collect intelligence as they scan land and infrastructure. Within the insurance industry, drone technology is employed in the inspection of large areas – namely, in commercial property and casualty insurance, as well as to assess agricultural losses. In large areas, as well as those that are difficult to access, drones offer improved speed and safety when assessing losses compared to physical, man-led examinations.
Beyond these industries, drone delivery as a service is one of the most anticipated commercial applications of drones. Meanwhile, the number of users flying drones for leisure is also on the rise. The commercial use of drones requires insurance cover, while this is optional when the unmanned aerial vehicle is flown as a hobby. Commercial drone operators need liability cover in case their drone causes bodily injury or property damage. It is also possible to get cover for physical damage to the drone, which is also known as hull coverage.
Despite the growing uses of drone technology, the number of drone insurance providers remains limited. Eversure, Flock, Drone Cover Club, and DroneInsurance.com are examples of providers in the UK. As such, the recent partnership between the British Insurance Brokers' Association (BIBA) and drone insurance firm Coverdrone will help to close the cover gap. Under the partnership, Coverdrone will launch a new insurance scheme for commercial and recreational drone operators, while BIBA's members will be able to provide drone insurance protection through this scheme.
Businesses that spearhead drone cover will likely be better positioned to gather a larger share of the pie as the market expands. They will have developed a brand for themselves and will have a larger base of customers whose operations are, potentially, also growing.