Findings from GlobalData's 2020 and 2021 UK Life and Pensions Surveys reveal that fewer UK consumers are seeking advice on their investments. However, robo-advice has seen an increase in popularity for investment advice, especially after Covid-19 and among younger individuals.
32.2% of UK individuals are seeking advice on investments in 2021, down 4.1 percentage points (pp) compared to 2020. Declines occurred across all age groups except those aged 18–24, where the proportion of individuals getting advice on investments increased by 5.6pp.
Independent financial advisors (IFAs) and free advice services, the most popular channels for investment advice in 2020, have seen a fall in popularity in 2021. Meanwhile, advice from banks and digital channels such as robo-advisers and apps has become more popular. COVID-19 will have impacted the popularity of IFAs as individuals will have turned to other investment advice channels that are not as costly. Individuals may have also been struggling financially and would have been in closer contact with their banks during this difficult period.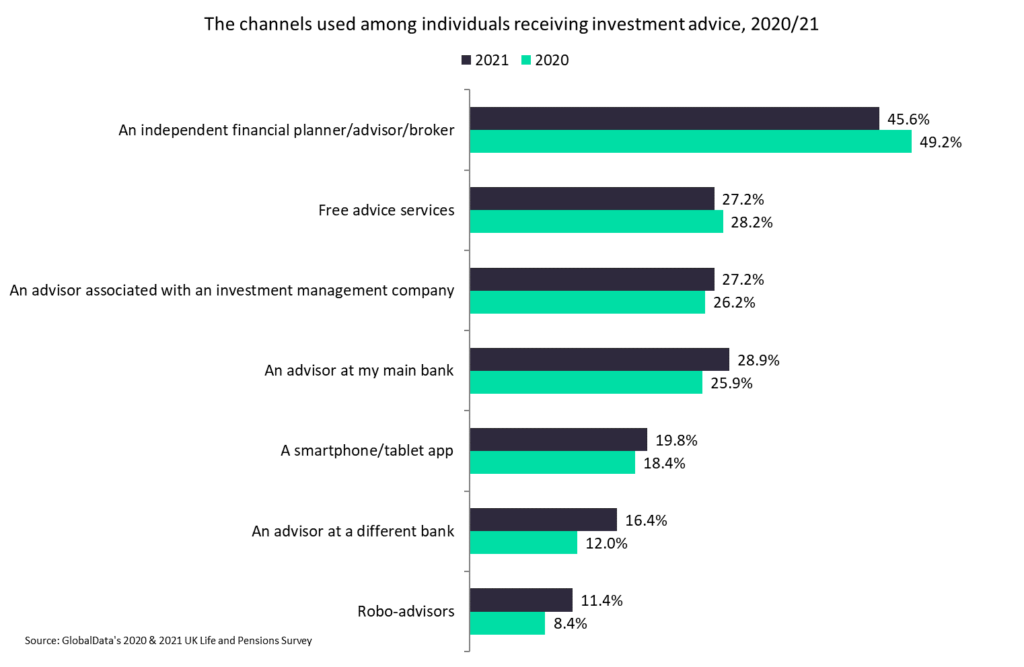 Robo-advisor usage rose among individuals aged 44 or below. The channel saw a marked increase in popularity among those aged 30–34, with usage increasing by 13.3pp among this group. On the other hand, IFAs saw a fall in popularity among most individuals aged 35 and over. This was particularly evident for those aged 35–39, with a 40% decrease in usage among this group. This does not bode well for this channel as its core customer group of older, more affluent individuals is turning to digital channels.
COVID-19 will have played a part in this shift, as non-digital native individuals became more accustomed with online channels over the past year. They will also have been forced to have less contact with traditional advisors due to lockdowns and social distancing.