Due to the Coronavirus pandemic, many employers have had to equip employees with the ability to connect to company servers from home. Remote working will certainly mean increased risk of cyber-attacks and cyber losses for companies during this time, leaving SMEs particularly vulnerable. Lessons learned from the pandemic will result in an increase in the uptake of cyber insurance among the SME community.
Findings from GlobalData's Thematic Research: Cyber Insurance report highlight that the uptake of cyber insurance among UK SMEs has increased considerably since 2015, reaching 18.8% of the total SME economy by 2019.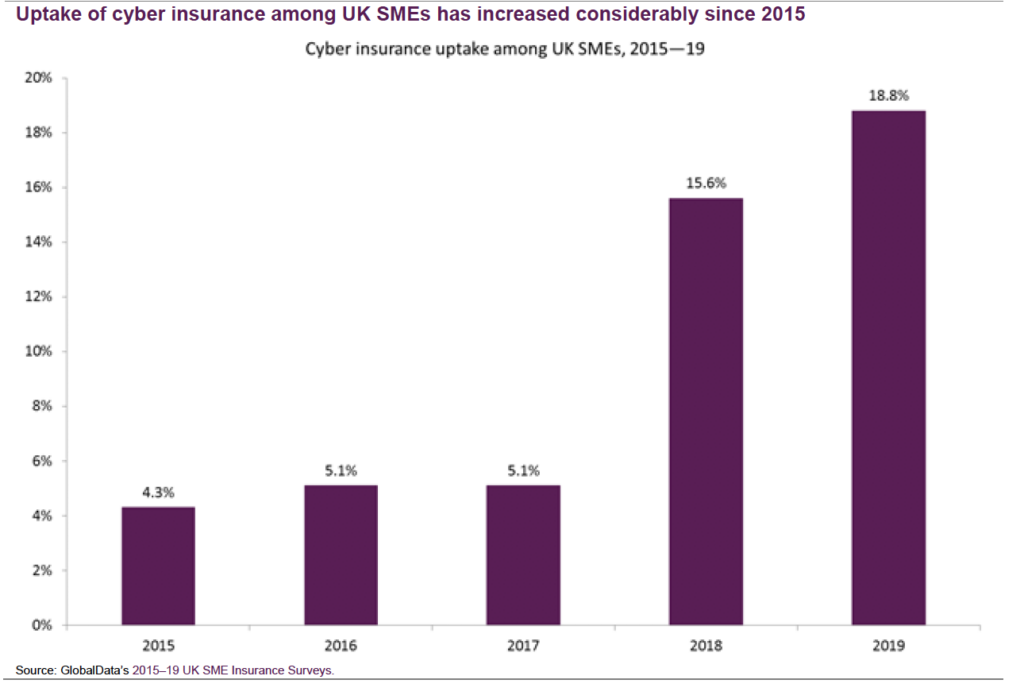 GlobalData research found that cyber insurance uptake has been the most impactful among micro businesses, which saw a 300% increase between 2016 and 2019, reaching 17.8%. The huge increase is due to the very low proportion of micro businesses that held cyber insurance in the past.
However, small and medium businesses have also recorded notable rises. More than 50% of medium enterprises now hold cyber insurance, highlighting the growing awareness around the importance of protection against cyber incidents among larger-sized businesses. Meanwhile, 40% of small enterprises hold cyber insurance as of 2019.
The UK government's Cyber Security Breaches Survey 2020 found that 46% of businesses in the UK reported suffering cybersecurity breaches or attacks in the last 12 months. Cyber insurance is not only important in terms of data breach issues, but can also assist companies with any relevant system failures.
The pandemic is bound to accelerate the market. We can expect a further increase in cyber insurance, not only because of the cyber risks associated with employees working from home, but also because the pandemic has further entrenched companies' heavy reliance on technology to fulfil day-to-day operations.