The COVID-19 pandemic and associated social distancing restrictions have forced insurance providers to move towards digital distribution channels. In many lines of business, this has been a relatively simplistic process, as the sale of policies through digital mediums is well established. However, within the UK life insurance market, this is not the case, meaning that some distribution channels have seen a fall in their share of policies.
GlobalData's 2020 UK Insurance Consumer Survey indicates that one of the life insurance markets to have seen an impact of social distancing measures on the sale of policies is critical illness. The below chart highlights the sale of new policies in both 2019 and 2020 and through which distribution channels they have been purchased.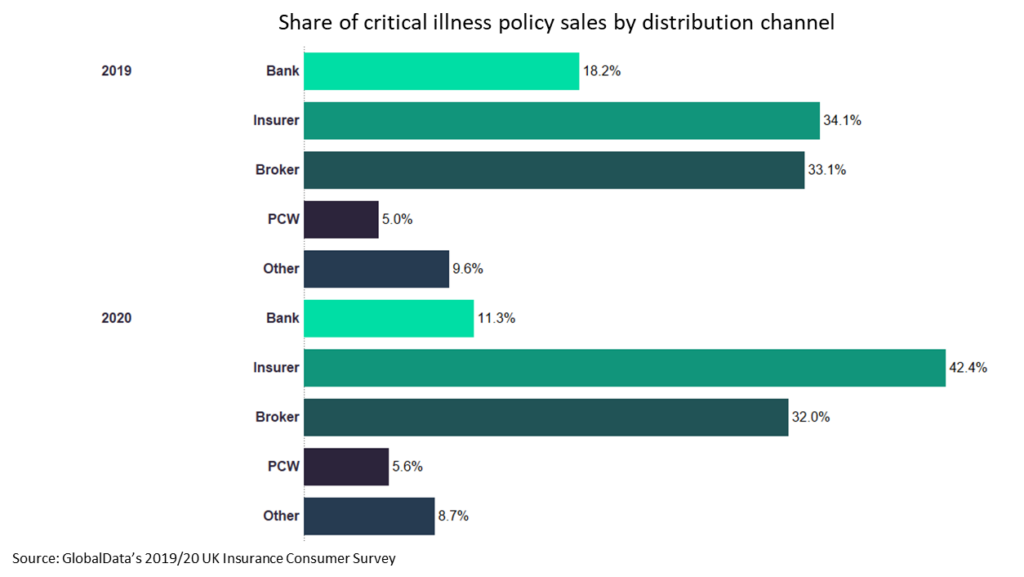 The biggest impact of the COVID-19 pandemic on the share of policy sales by channel can be seen in the reduced popularity of purchasing via the banking channel, which in 2019 accounted for 18.2% of sales but fell to 11.3% in 2020. With the banking channel being reliant on more traditional methods of selling policies through branches, the impact that social distancing measures have had is clear to see. While providers in other channels are well established in the sale of policies through digital channels, those in the banking channel have clearly struggled to make the necessary changes in order to remain competitive.
The fall in the use of the channel is likely to have been further exacerbated by the period when the housing market was largely shut and mortgage advances fell considerably, indicating that the ability to cross-sell critical illness during the mortgage process was essentially ceased.