Comment
COVID-19: Ad valorem motor refunds fairer than flat fee rebates
In an unprecedented move, an increasing number of motor insurers are offering refunds to policyholders. The coronavirus pandemic has ground cities to a halt, and car mileage and claims have fallen sharply as lockdown measures continue worldwide. Different approaches have been used to establish the amount of rebates, but those providing a flat fee leave younger drivers worse off than other policyholders.
Typically, insurance providers calculate premiums by assessing how risky a driver might be, taking into account several factors including age and mileage estimates. Younger drivers are considered to be riskier and consequently pay higher premiums. Findings from GlobalData's 2019 UK Insurance Consumer Survey show that policyholders aged 18–24 pay the highest premiums – an average of £841.24 per annum. Meanwhile, those aged 55–59 pay the lowest premiums on average at £314.81 – under half the price tag of those in the 18–24 age bracket.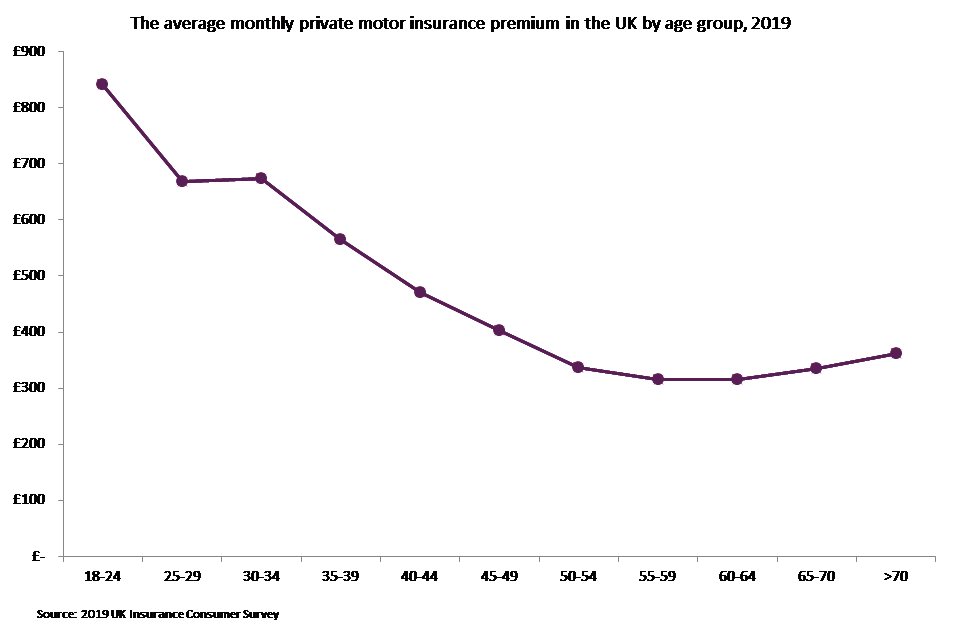 Given that those in the 18–24 demographic often hold jobs in industries among the worst affected by COVID-19, such as the hospitality and retail segments, they are likely to have lower salaries and less savings. Findings from GlobalData's 2019 UK Life & Pensions Survey indicate that close to half (48.2%) of 18–24-year-olds have less than £1,000 in their savings account. Thus, refunds may be of greater importance to them than other demographic segments of the population.
But providers aiming to pay off a flat fee refund to all customers overlook the fact that policyholders do not all pay the same in premiums. Those paying the highest premiums, like younger drivers, will lose out. Recently, some insurers like Admiral in the UK and AXA Ireland have announced plans to refund a flat fee to customers – £25 and €33, respectively. A £25 rebate translates into approximately a 3% refund on premiums for drivers aged 18–24, compared to 8% for drivers in the 50–59 age range. In contrast, several other insurers are refunding policyholders a percentage of the premium they pay. US-based Liberty Mutual, Allstate, and Safeco offer customers 15% refunds on two months of their premiums. Meanwhile, GEICO customers can expect to get back a 15% credit for six months. This ad valorem approach means that policyholders are refunded according to how much they pay, better reflecting the price differences in premiums.
Instead of offering rebates, UK's Direct Line is allowing customers to temporarily lower their expected mileage on policies, which ultimately would also lower their premiums. Direct Line has seen 70% fewer claims in April 2020 than during the same period in 2019.
In any case, the move towards accommodating customers' needs and providing refunds is a positive step for the industry, which has long suffered from consumer mistrust. Policyholders are also bound to appreciate the gesture and any refund offered by their insurer. However, insurers must be careful that they are not perceived to be treating policyholders unfairly. Offering refunds as a percentage of premiums paid means that those with riskier profiles – and tied to higher premiums – are not at a disadvantage when receiving refunds.
Latest reports from
GlobalData is this website's parent business intelligence company.