Brokers' confidence in their business is returning as concerns about the COVID-19 pandemic subside. Traditionally, commercial brokers had seen competition from other brokers as the main threat to their business, but COVID-19 shook that as clients going out of business became their top concern. As the pandemic settles down, competition has once again moved up the rankings.
According to GlobalData's 2022 UK Commercial Insurance Broker Survey, competition is now the main threat faced by commercial brokers. 18.4% of commercial brokers fear competition from other brokers, while a further 16% stated that customers going direct via insurers' own sites, or online competition, was their main threat.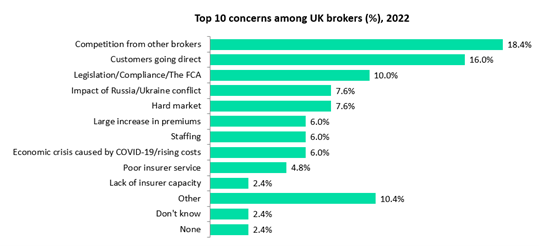 As the economy goes back to a new normal, concerns related to the COVID-19 pandemic slipped down the rankings. In fact, the impact of the Russia-Ukraine conflict is more concerning to brokers than the pandemic, despite the rising costs of living. 10.4% of brokers cited other concerns, among whom just 2% were concerned about their clients going out of business due to the pandemic.
This compares very differently to the situation in 2021, when around a fifth of commercial brokers identified clients going out of business due to COVID-19 as their main threat. Moreover, COVID-19 uncertainty (13.8%) and the looming economic crisis (11.5%) featured among the main threats. At that point in time, competition from other brokers, although still deemed substantially important, was seen to play a smaller role.
This highlights not only brokers' recent worries about the COVID-19 impact on the economy and their clients, but also signals the difficulties that brokers have had to endure during the pandemic, as they had to adapt to new ways of making business and place greater focus on their digital capabilities. As the economy opens up, and people live with fewer restrictions, confidence is building up in the business, and brokers are once again seeing fellow brokers as their main threat.