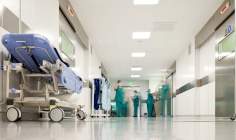 Aflac, a US voluntary insurance provider at the worksite, has launched a group hospital indemnity product.
The product is designed to provide flexible coverage for both routine medical care and catastrophic illnesses and accidents.
It was introduced in 40 US states throughout January 2016 and aims to help employees pay out-of-pocket costs that major medical was never intended to cover.
A key feature of the product is the ability to customise coverage with three plan levels and multiple optional benefit categories.
This means each employer can offer a plan designed to best complement their major medical plan and pay cash benefits to employees to help them cover out-of-pocket expenses on a case-by-case basis.
Other enhancements such as no pre-existing condition limitations, no termination age, first-child coverage included, simplified surgical benefits and a two-year rate guarantee are features of the product.
Dan Lebish, executive vice president and chief operating officer at Aflac Group, said: "With health care costs continually being shifted to employees, many Americans are financially unprepared to cover the costs of a major accident or illness."
"Aflac's Group Hospital Indemnity product demonstrates our continued dedication to meeting the evolving needs of our customers. By enhancing employees' current benefits, employers can help their workforce avoid taking funds out of savings or borrowing money when unexpected medical expenses arise."
In addition to hospital confinement, admission and intensive care benefits, the Aflac Group Hospital Indemnity plan's base hospitalization plan will include an intermediate intensive care step-down unit benefit.
This is payable for each day an insured is confined in an intermediate intensive care step-down unit because of a covered accidental injury or sickness.
The plan also gives employers the option to include the following:
– Treatment Benefits – Treatments covered under this benefit include outpatient doctor's visits, telemedicine services, diagnostic exams, emergency room visits, prescription drugs and rehabilitation facility care associated with a covered accidental injury or sickness.
– Surgery and Anesthesia Benefits – This benefit is payable for each day that, due to a covered accidental injury or sickness, an insured has an inpatient surgical procedure while hospitalised or an outpatient surgical procedure performed by a doctor in a doctor's office or urgent care facility.