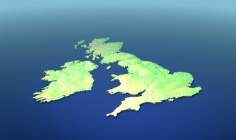 The Income Protection Task Force (IPTF) is proposing two new areas for the industry to consider supporting that would provide a 'strong follow-up' to the first Seven Families (7F) project.
These ideas would bridge the gap between 7F1 and 7F2, with discussions around what 7F2 might look like kicking off in the summer ahead of a proposed launch next year.
The two suggestions on the table are a filmed TV style debate with an audience and expert panel, debating all the key issues and made available to both advisers and the public in a range of formats.
The IPTF has also proposed this would be supported by a brand new IPTF website, which would in time become the home of all things income protection for both consumers and advisers.
Insurers and reinsurers are invited to submit their feedback on the IPTF's proposals.
Peter Le Beau, co-chairman of UK protection insurance consultancy, Protection Review, said: "We believe a high-quality television style debate, covering all the key consumer issues in a familiar format, to be used across a range of media, would provide a powerful follow-up to the first Seven Families project.
"Added to this we also aim to produce the 'go- to' resource for consumers and advisers alike for all things income protection, via a much more effective new website.
"We anticipate that when it is built the site will host all IPTF communications, hold technical information for advisers and the public, exhibit case studies, news and market developments and all the details of the Seven Families projects."
Le Beau added that the IPTF sees this as a necessary and effective bridge between 7F1, which has ended, and 7F2, which could take place in 2018. "We would suggest that discussions on what 7F2 might look like should commence in the summer."
IFA Roy McLoughlin commented: "During the last two years we have been travelling the country talking to advisers about 7F and there is no doubt that their thirst for knowledge is alive and well. It is vital that we continue with this message as advisers are the crucial conduit in raising awareness with the general public, particularly against the backdrop raised in the recent green paper.
"We need ongoing support from insurers and re-insurers – as many as possible – to continue to build on the work already done. The endorsement and backing from these institutions is recognised and respected by the advisory community."
For all the latest insight, news and data on the global life and health insurance and reinsurance markets, visit www.lifeinsuranceinternational.com