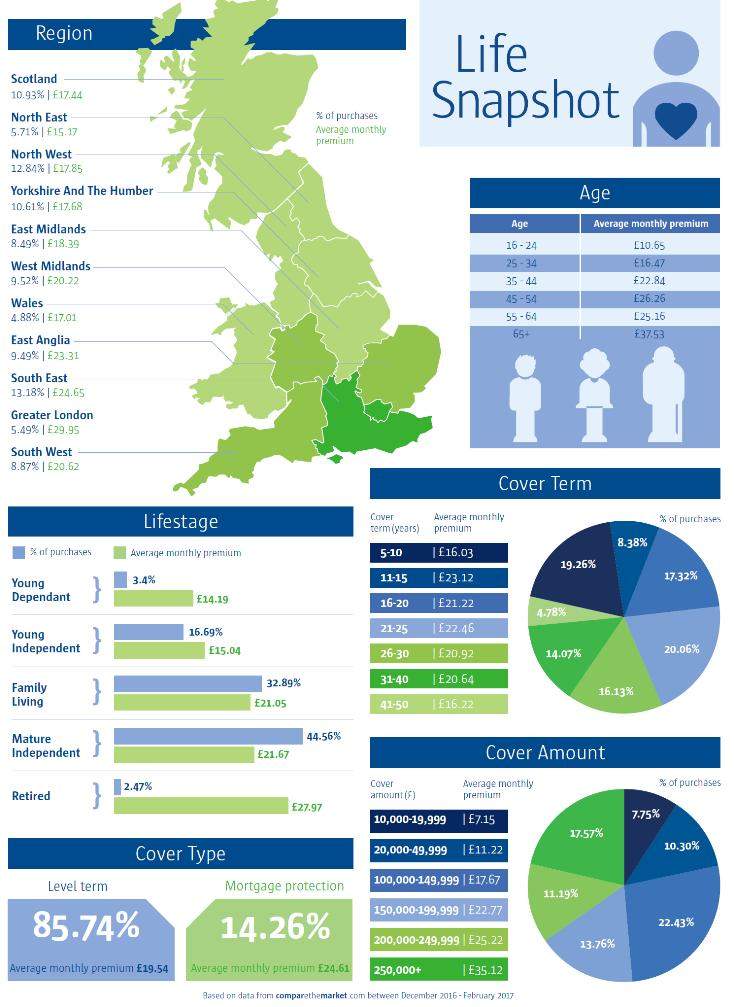 Data from comparethemarket.com indicates consumers in the Southeast of England appear to have the strongest appetite for purchasing life insurance, compared to those in other parts of England, Wales and Scotland.
The price comparison website said data from comparethemarket.com between December 2016 – and February 2017 showed the southeast of England had the highest percentage of life insurance purchases at 13.18%.
The Northwest of England came in second place with 12.84% of life insurance purchases between December 2016 – February 2017. Scotland was in third place with 10.93% of purchases during the period.
Comparethemarket.com said Greater London had the highest average monthly life insurance premium at £29.95 between December 2016 – February 2017. The Southeast of England was in second place with an average monthly premium of £24.65. East Anglia came third with an average monthly premium of £23.31 during the period.
Dan Hutson, head of life Insurance, at comparethemarket.com said: "Our recent research shows that three quarters (75%) of widowed parents admitted that bereavement had "far more financial costs associated with it" than they expected, and over seven in ten (72%) said bereavement had a "serious or negative financial impact" on them and their family.
Cuts to benefits
"On top of this, recent cuts to the Government's bereavement benefits means that in such instances, 75% of all families with children are likely to be worse off financially."
Hutson added: "People often take cover out because they've made a major life decision, such as buying a house, getting married or starting a family. Our data shows that the age group most likely to take out a life insurance policy is 25-34, with the average premium costing just £15 a month.
"It's encouraging to see people as young as 25 take out life insurance and planning ahead for the future – by the age of 35, monthly premiums jump to an average of £23 a month, so it's worth thinking ahead and protecting you and your loved ones at a young age, to benefit from lower premiums."