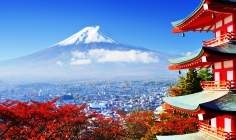 The gross written premium of the Japanese life segment is forecast to increase from JPY28.3trn ($248.9bn) in 2015 to JPY30trn in 2020, according to Timetric's Insurance Intelligence Center (IIC).
A new IIC report Life Insurance in Japan, Key Trends and Opportunities to 2020, says a lack of growth opportunities in the Japanese domestic market has prompted life insurers to acquire life insurers outside Japan, particularly in Southeast Asia and the US.
For example, in October 2016, Nippon Life Insurance acquired an 80% stake in National Australia Bank's life insurance operations for JPY202.6bn.
Aside from mergers and acquisitions, Japanese life insurers are also exploring joint venture opportunities. In May 2015, for example, Tokio Marine & Nichido Life Insurance Co. increased its stake in Indian life insurance from 26 % to 49%.
According to the IIC, the outlook for savings insurance products will be a challenge for life insurers due to negative yields from Japanese government bonds.
This has prompted life insurers to modify products by eliminating or minimizing interest rate-related guarantees to focus on protection. In April 2016, Nippon Life began offering Gran Age Nissay's long-life insurance product for senior citizens.
A key factor impacting Japan's life insurance market is its aging population and the IIC says this drove the demand for whole life, pension and term insurance products during. In 2015, the proportion of the population aged 65 and above accounted for 26.5% of the total. This is expected to reach 30.8% by 2025.