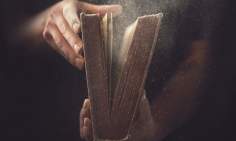 New research by SunLife has found the average insurance product comes with 25,669 words of explanation – more than Shakespeare's Romeo and Juliet – and takes as much effort to understand.
The insurer calculated the average person gets 72 new insurance contracts in their lifetime – meaning a grand total of 1.84m words of insurance to read. That's almost twice as long as the entire collection of Harry Potter books.
SunLife's research also found people ignore 85% – and typically read just 15% of what they are sent – meaning millions may not know much about the cover they are paying for.
SunLife's head of brand Ian Atkinson said: "Over three hours' worth of reading – often written in complex language – feels like a big commitment to have to make every time you buy an insurance product.
"Of course it's important to have a good idea of what you are and aren't covered for, but it's understandable that typically people don't want to spend more than half an hour reading about their insurance. That's why we want to make insurance documents shorter and simpler to understand."
To demonstrate the challenge and complexity of life insurance policy documents, SunLife set up a Straightfordable Maze near its Bristol headquarters, hosted by UK TV personality Cheryl Baker.
Members of the public were blindfolded while they attempted to get through an alarmed laser grid in the fastest time possible.
What they didn't know was that as soon as they put the blindfold on and pressed the start button, the lasers disappeared – so the watching crowds saw someone trying to avoid lasers that simply weren't there.
The stunt was to demonstrate SunLife's belief that things should be made more 'straightfordable' – like their own life insurance documents, which are less than a quarter of a standard policy length (just 4,500 words compared to an average of over 19,000 words).
Atkinson commented: "One of the big enemies for getting the right cover is complexity. We've still got a way to go, but at SunLife we want to make buying the right insurance as easy as buying something on Amazon.
"People spend an average of 27 minutes reading their insurance so perhaps we shouldn't be creating policies that take many more minutes than that to read."
Type

Ave policy document word count

Number studied

Ave Key Features Document

Sample policy comm

total

Minutes for PhD to read and understand

7 REI

(Readability Efficiency Index)

h

m

Travel

23339

6

4131

3000

30470

30.47

213.29

3

33

Home

17785

6

2529

3000

23314

23.314

163.198

2

43

Car

13757

5

2570

3000

19327

19.327

135.289

2

15

Life

19656

8

4782

3000

27438

27.438

192.066

3

12

Health

18291

5

6505

3000

27796

27.796

194.572

3

15

30

total

25,669 average

Time for average reader to understand
Source: SunLife