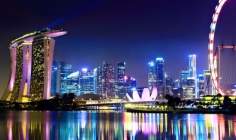 To commemorate its 85th anniversary, Prudential Singapore has announced plans to offer financial assistance to low-income families in Singapore to help tide them through health and personal crises.
PRUcares – Prudential Singapore's new community programme – is fully funded by Prudential Singapore and is offered at no cost to the beneficiaries.
PRUcares will be made accessible to approximately 300 eligible families under the AWWA Family Service Centre in a one-year pilot programme.
AWWA Family Service Centre serves children, youths and families residing in Jalan Besar GRC.
PRUcares collaboration
Subsequently, the life insurer plans to extend PRUcares to more low-income families by collaborating with other voluntary welfare organisations in Singapore.
Under PRUcares, each eligible household will be given up to S$2,000 annually in the event that an accident or illness causes the family's breadwinner to lose income for a certain period.
There will be a death pay-out capped at $10,800 per year for each family in the event that the breadwinner passes away. The pay-out will be in the form of both cash and food vouchers.
PRUCares will benefit low-income families drawing less than S$2,000 household income a month or individuals with a monthly income of less than S$650.
According to the Department of Statistics Singapore, 2% of resident households locally have a monthly income of below $1,000 and almost six per cent have a monthly income of between $1,000 and $1,999.
PRUcares is the latest among several community programmes Prudential Singapore has supported in its efforts to give back to the community.
The life insurer has sponsored The Boys' Brigade Share-A-Gift project since 2009. It has also promoted financial literacy for children through the Cha-Ching Singapore School Tour. The Cha-Ching Singapore Tour was designed to teach young children basic money management concepts using interactive life-size game boards.
Protection gap in Singapore
PRUcares comes at a time of growing awareness about the protection gap among Singaporeans. Industry studies have shown that many Singaporeans are not adequately insured or not insured at all.
Philip Seah, Prudential Singapore Chief Executive Officer, said PRUcares is the company's way of giving back to the community which it has served for the last 85 years.
Seah said: "While we focus on serving the protection needs of our customers, we are mindful not to neglect the underprivileged among us. For low-income families, losing a breadwinner could bring about a tremendous amount of financial stress and in a worst-case scenario, could even mean having no food on the table. Through PRUcares, we want to offer some form of financial assistance to those who cannot afford insurance by bringing our expertise to bear."