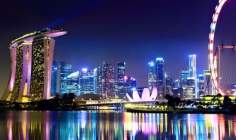 Prudential has found 70% of Singaporeans have not increased their life insurance cover over the last five years to keep pace with rising income levels.
In a Prudential survey 48% of this group of respondents cited budget constraints as the key barrier to getting more life insurance cover followed by competing financial needs, with 35% indicating they have other priorities to take care of.
The Prudential Protection Poll revealed that 85% of Singaporeans are potentially under-insured by industry standards, with only five times their annual earnings set aside as contingency funds for unexpected personal and financial events.
According to the Life Insurance Association Singapore, one should aim to have approximately 10 times his or her annual earnings as basic life cover.
Angela Hunter, executive vice president and chief marketing officer of Prudential Singapore, said Singaporeans may be unnecessarily exposing themselves and their families to financial stress in times of life's crises.
Prudential said the lack of awareness on the right level of financial protection needed during times of crisis could be one of the reasons Singaporeans are not sufficiently insured.
According to the Prudential Protection Poll, 61% of Singaporeans believe they have enough savings and life insurance cover to protect themselves and their families against life's eventualities.
However, in reality, only 15% have 10 times or more of their annual income set aside as financial protection against life's crises.
Disconnect
Hunter said: "There is obviously a disconnect between what Singaporeans think they need to ensure a secure financial future for themselves and their families and what is actually required. In deciding on life insurance cover, one should consider factors such as income, expenses, outstanding debts, as well as existing savings and investments."
On a more positive note, the Prudential Protection Poll highlighted that relationship matters to most Singaporeans with eight in 10 respondents saying providing financial protection to the family is the most important driver of insurance purchase.
"At the end of the day, nothing is really more important than knowing that our loved ones will be taken care of in times of crises. As a company that believes in building long-term relationships, we want to help our customers protect their most precious relationships," said Ms Hunter.
To encourage more Singaporeans to take up insurance, Prudential Singapore is offering discounts on the first-year premiums of selected life and health insurance plans from now until 30 September 2016.
These products are available exclusively through Prudential Financial Consultants, United Overseas Bank Group (UOB Group), and Standard Chartered Bank.