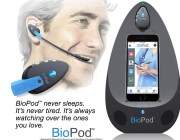 US health entrepreneur Richard Maertz believes a wearable-hearable technology device he invented – that is mounted in a user's ear – offers opportunities and benefits for health insurers and providers.
Maertz owns the US patent to BioPod, which is a wearable sensor and two-way direct communication system.
Maertz told Life insurance International the BioPod's ear sensors, along with other associated sensors enable it to remotely monitor biometric vital signs including heart rate, temperature, oxygen saturation and End Tidal CO2. Feedback can be accessed continuously or intermittently.
Maertz said BioPod Ventures is currently exploring how existing and pending proprietary BioPod technology may add value to insurance providers' future programming; or to be offered to an industry cooperative entity, which could standardise systems for the collection of secure biometric consumer data for the life and health insurance industry.
Commenting on the significance of his wearable-hearable device for insurers, Maertz said: "The 24/7/365 monitoring capabilities of BioPod Technology provides instantaneous data. That data provides the most up to date information which may be used for early detection and in turn can be used by insurance providers to help prevent healthcare issues from escalating to more severe and costly medical problems, reducing bottom-line costs to insurance providers and potentially reducing premium costs."
He added that the device would enable a "win-win situation" for both the insurers and the insured and would set the standard for insurance coverage worldwide.