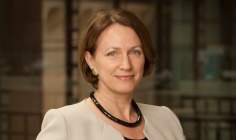 Lloyd's of London CEO Inga Beale has applauded the mutual insurance sector's performance, but warned not to hide behind regulation as a reason not to innovate.
Beale was speaking at the International Cooperative and Mutual Insurance Federation's (ICMIF) 23rd Meeting of Reinsurance Officials Meeting (MORO) in London, which Life Insurance International (LII) attended.
She kicked off the agenda talking about the role of innovation and climate change in insurance, considering both the threats and opportunities that the industry now faces.
"We need to not only survive, but thrive," said Beale. "The industry mustn't hide behind regulation for a reason not to innovate.
"The cooperative and mutual insurance market plays a vital role in covering people all over the world. Representing 27% of the global insurance market it represents an amazing presence across the world."
Hurdles for mutual insurance sector
However the Lloyds chief warned that there are still hurdles for the mutual insurance sector to tackle. "An estimated 43% of the world's countries do not have mutual or cooperative law. Protectionism is not good for these countries," she said.
Beale went on to explore the new risks that are appearing and are often intangible eg. reputation, cyber etc. She talked about how responding to these intangible risks is a challenge and that more investment is needed in research and development. "G20 nations suffer the bulk of the impact of cybercrime," said Beale.
"Insurers are struggling with assessing the risk. Our industry is data-driven and we use it to deliver appropriate sustainable pricing. But challenges arise around harnessing big data and data governance," she added.
Data ownership
She concluded by emphasising that as customers allow their behaviours to be monitored via social media and wearable technology, the power is now passed from insurers to the consumer in data ownership terms.
Beale said: "We as an industry need to react quickly to the new paradigm where customer is king."