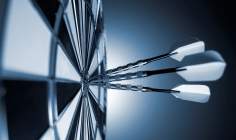 The product, which is called Lincoln WealthAdvantage, has three death benefit options, including a death benefit equal to the policy face amount plus premiums paid, which was previously unavailable on Lincoln IUL policies.
Lincoln Financial said the offering will also provide strong cash accumulation potential through three one-year point-to-point index account options tied to performance of the S&P 500 Index to cover a wide range of returns.
It offers a guaranteed interest bonus beginning in year 16 regardless of S&P performance, along with a guaranteed 1% minimum interest rate on all accounts to prevent negative returns.
To serve business uses, the product will offer the optional Surrender Value Enhancement Endorsement feature. This will enable business owners to reposition existing assets of the company to buy life insurance, as well as maintain the majority of the premiums paid as a surrenderable liquid asset.
Lincoln Financial said the feature helps waive surrender charges to facilitate executive bonus plans, key person insurance and business continuation planning, and adjust premiums and access enhanced cash value if required.
Michael Parker, vice president, life product management at Lincoln Financial Group, said the Lincoln WealthAdvantage product offers a cost-efficient death benefit with cash value flexibility for clients seeking protection and tax-advantaged growth potential.