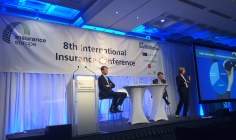 Generali Group's Valter Trevisani has told attendees at the recent Insurance Europe held in Dublin that technology is "changing the rules" of insurance and warned of "seismic change".
Trevisani, who is head of insurance and reinsurance at Generali Group, Italy, was speaking about the distribution channels of tomorrow at the conference, which was attended by nearly 600 policymakers, regulators and insurers from around the world.
He was joined in the session by AXA Group's head of foresight, Cecile Wendling and was joined by Torbjorn Magnusson, president and CEO, If P&C Insurance, Sweden.
New distribution models
Wendling highlighted community distribution, automated distribution and embedded distribution as three new models of insurance. She noted Lemonade, which is the world's first peer-to-peer (P2P) insurance company, is an example of community distribution. Another P2P players she highlighted is Friendsurance.
German headquartered Friendsurance, which was founded in 2010 rewards small groups of users with a cash-back bonus at the end of each year they remain claimless.
Teambrella
Wendling also told the audience noted that Teambrella is the first P2P insurance service powered by Bitcoin. Teambrella's users provide coverage to each other. If a teambrella users submits a claim within his 'team', his / her teammates reimburse it.
The model works by each teammate depositing funds into a special personal Bitcoin wallet.
The funds in the wallet can only be spent if both the teammate and the other three out of eight semi-randomly selected teammates sign for it. If the team votes to reimburse a teammate, all teammates are to pay their share from those wallets.
According to Teambrella, the difference between it and a mutual insurance company is that teammates in Teambrella can control every aspect of the insurance, either personally or via a proxy.
Looking to the future, Wendling stressed the importance of an omni-channel for insurers. Asked by Life Insurance International, about the state of innovation in the life and health insurance market, she said customers will decide whether they want incremental or transformational change, and regulation will be a big part of this.
Gabriel Bernardino, chairman of the European Insurance & Occupational Pensions Authority (EIOPA), told delegates: " There will be more simple products that need less advice, with digitalisation, but also advice [will be needed] for complex insurance needs."
The message from Rowan Douglas, CEO, capital, science and policy practice, at Willis Towers Watson summed up the challenges facing those at the conference and worldwide. Douglas told attendees: "The biggest challenge we have is ourselves. Now, help us flourish."