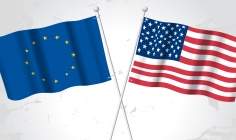 Insurance Europe has reaffirmed its support for a swift conclusion to negotiations that aim to ensure national uniform treatment of all European (re)insurers placing business in the US.
The European insurance and reinsurance federation made the call ahead of the next round of negotiations between the EU and the US on a bilateral agreement on (re)insurance.
The context to the negotiations began in November 2015 when the US Department of the Treasury and the Office of the US Trade Representative (USTR) announced their intention to begin negotiating a covered agreement with the European Union.
Cristina Mihai, head of international affairs and investments at Insurance Europe, said: "The current US statutory collateral requirements are highly discriminatory and place European cross-border (re)insurers at a significant competitive disadvantage when writing risks in the US. A bilateral agreement between the EU and the US should therefore seek the total elimination of statutory collateral requirements in all US states, and should apply to both in-force and new business."
US and EU representatives first met in Brussels in February 2016. In July, the US and EU released a joint statement saying:
July joint statement
"EU and U.S. representatives met in Brussels on 25-26 July 2016 to discuss a future bilateral agreement relating to prudential insurance and reinsurance measures.
"Both sides continued to discuss in good faith matters relating to group supervision, exchange of confidential information between supervisory authorities on both sides, and reinsurance supervision, including collateral.
"EU and U.S. representatives exchanged concrete ideas in a constructive atmosphere, and addressed next steps towards completing negotiations in a timely manner."
A covered agreement is an agreement between the US and one or more foreign governments, authorities or regulatory entities, regarding prudential measures with respect to insurance or reinsurance.
Under the Federal Insurance Office Act of 2010, the Secretary of the Treasury, through the Federal Insurance Office (FIO), and USTR are authorized to jointly negotiate a covered agreement.