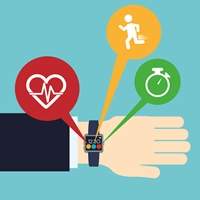 The impact of wearable technology on the insurance industry is illustrated in the infographic link below depicting its effect on the front office, policy services, underwriting and pricing and claims.
https://lifeinsurancepost.com/wearable-technology-influencing-insurance-industry/
Source: LifeInsurancePost.com
Wearable devices such as wristbands and smart watches are becoming increasingly popular among insurers, which are beginning to track policyholders' health and fitness. According to a survey in Accenture's 2015 Technology Vision report, 63% of respondents in nine countries think the insurance industry will use wearable technology widely in the next two years.
The number of connected wearable devices worldwide is expected to increase from 109 million in 2014 to 578 million in 2019, at a CAGR of 39.60%, according to the Cisco Virtual Network Index forecast in 2015.
Wearable devices are playing a key role in determining premiums for individual and group health insurance plans, as they can provide genuine insight into risk based on actual behavioral patterns. Insurers generally calculate premiums based on estimates, and wearable devices can increase the validity of risk calculations.
The US-based life insurer John Hancock uses wearable technology to help customers prove that they are low-risk individuals. Customers can use the Apple Watch to share data about their fitness and earn discounts on life premiums. Customers can also use the Fitbit Activity Band, which is offered free to John Hancock Vitality life insurance policyholders, in order to track their fitness.
Insurers are not only using wearable technology to assess risk using collected data, but also to create a new range of value-added services. Wearable technology also has the potential to help customers improve their health, and detect abnormalities at an early stage. Sensors in wearable devices can intelligently monitor breathing patterns, heart rate, body mass index or stress
The health insurer Humana launched an app in 2015 called Cue for Apple Watch, which encourages individuals to improve their health by reminding them to drink water, stretch, concentrate on breathing or take a walk. Cue also tracks the number of times a certain action is performed, and gives feedback in the form of a Current Streaks graph, comparing previous best performances
Source: Timetric's Insurance Intelligence Center