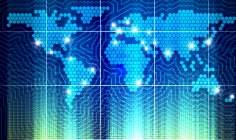 http://topquote.ie/van-insurance/The infographic in this article explains how the insurance industry can grow with the digital revolution
Key takeaways from the infographic below:
1. Insurers acknowledge their current low levels of digital maturity and the need to take action.
2. Companies have high digital ambitions, but are they grounded in reality?
3. Insurers are holding themselves back. For example, internal factors such as legacy technology, slow pace od delivery and cultural constraints are hindering digital progress
4. Improved retention through higher quality customer experience. The two biggest drivers of digital strategies are: enriching the customer experience and regaining more direct control of rhe customer relationship
5. Distributors are also digital customers – sharing the benefits of investment in digital, and communicating a clear mutual value proposition to deliver a better customer experience will help minimise channel conflict.
6. Analytics are crucial for digital sucess. Segmentation, customer data analytics and predictive modelling have emerged as digital skill set most in demand
7. Insurers need to embrace the mobile and social media wave
Infographic source: http://topquote.ie/van-insurance/