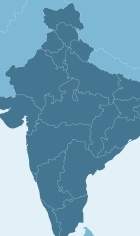 India's life insurance market is forecast to increase from INR 3.5trn ($56.8m) in 2014 to $5.8trn in 2019, driven by the rise of foreign direct investment, rising life expectancy and the introduction of new distribution channels.
That is the key message according to a report Life Insurance in India, Key Trends and Opportunities to 2019, which is available at Timetric's Insurance Intelligence Center.
Timetric's IIC report notes that the Indian life insurance segment is one of the world's largest, with 360m policies. The report notes that the Indian life insurance segment ranked 10th of 180 countries in terms of gross written premiums in 2014.
The IIC report explains that the key trends driving the Indian life segment are:
– The rise in foreign direct investment
– Rise in life expectancy
The rise in foreign direct investment : On March 12, 2015, the government passed the Insurance Laws (Amendment) Bill 2015 and increased the FDI limit in the Indian insurance industry from 26% to 49%. The rise is expected to increase investments by up to INR600bn between 2014 and 2019. Despite the FDI rise, the insurance bill requires that companies are owned and managed by Indian citizens or companies only.
The FDI increase is expected to encourage global insurers to invest in the segment, intensifying competition between 2014 and 2019.
As an example of this, Life Insurance International (LII) reported in December 2015 that French insurer AXA has increased its stake from 26% to 49% in its life and general insurance joint-ventures (JVs) in India, Bharti AXA Life Insurance Co and Bharti AXA General Insurance Co.
AXA Asia CEO Jean-Louis Laurent Josi, said: "This transaction confirms AXA's long-term commitment towards the Indian insurance market and is another step in our development in Asia.
"India is one of the most dynamic insurance markets in the world and we remain fully confident in the capacity of our joint-ventures to continue building upon and developing our operations as an innovative and customer-focused insurer to offer services and products of high quality to our customers."
With favourable policy changes for foreign insurers, the life segment, largely controlled by the government-run Life Insurance Corporation (LIC), is expected to experience increased competition in products, prices and services.
Several foreign insurers have received regulatory approvals, and others are awaiting approval from the Indian government to increase their stakes in Indian joint ventures.
The government is also considering expanding the cap to allow 100% FDI in insurance intermediaries, including brokers. Leading international brokers such as Aon, Marsh and Howden, which currently operate in the country through joint ventures or partnerships, will be able to operate directly by establishing their own subsidiaries. This move is expected to bring in new investments in distribution over the forecast period.
Rise in life expectancy: Life expectancy was a key driver of growth in the Indian life segment during the review period. According to United States Census Bureau (USCB), average life expectancy increased from 66.5 years in 2010 to 67.8 years in 2014, and is expected to reach 69.4 years by 2019.
Mis-selling of one of the major challenges currently facing India's life insurance sector.
Issues such as malpractice in policy issuance by insurers have led to several penalty charges from IRDAI, with pressure on agents to sell policies with higher commissions leading to continued mis-selling.
According to IRDAI's 2013-2014 annual report, 374,620 complaints were reported for the life segment, compared with 341,012 in 2012-2013.
The 2013-2014 IRDAI annual report also states that unfair business practice complaints accounted for the largest class of complaints during 2013-2014.
Complaints related to unfair business practice accounted for 56% of complaints related to life insurance, up from 49% in 2012-2013. While a number of measures have been taken by IRDAI to develop the life segment, concerns over mis-selling need to be addressed.
Another challenge is that the country's 1.27bn population is spread over a large area, which impedes comprehensive insurance cover. Traditional methods of distribution, such as agencies, are still used, but disadvantages such as a lack of incentives and high costs are substantial hurdles.
Speaking to Life Insurance International (LII), P Narasimha Murthy, a chartered insurer and life insurance and reinsurance special¬ist, says India's society has not been able to recognise insurance as an important protection tool and awareness of insurance programmes are "still at abysmally lower levels".
Murthy says: "Recently there is a favourable trend that micro insurance products are launched. But there needs a concentrat¬ed effort in targeting this segment. Many NGOs are working in this direction which is a favourable trend.
Asked what life insurance products are expected to Aalok Bhan, director – product solutions management, at Max Life Insurance, tells LII the contribution of health-based products will increase within life insurance.
Bhan says: "It is already being seen as a new trend, where specific health (disease)-related products are gaining momentum.
"The regulator is also expected to make changes to health regulations and the life insurance industry is pushing towards a level playing field with general insurance and health insurance companies for health insurance products.
Bhan adds: "Technology enabled products will be the winners and hence going forward simpler products will grow."
Sandeep Batra – executive director at ICICI Prudential Life Insurance Company, says Life insurance is a capital intensive sector and the increase in the FDI limits will make it easier for companies to raise capital.
In terms of life insurance products expected to grow in India, Batra says term plans are the most cost effective products that offer protection. "As the country's young educated workforce increases there will be a rise in the general awareness on the importance of buying financial protection," says Batra.